Our Favorite Fall Recipes
As the days get shorter and the leaves turn to oranges and reds, we're all making the most out of our end-of-summer grocery hauls, and turning them into colorful, comforting fall dishes. We've included our favorite dinner ideas, fall side dishes, and some vegan recipes that will make you feel all of the wonderful fall feelings.
These deliciously cozy fall recipes will satisfy all of your autumn food cravings!
It might be hard to believe that summer is gone, but it's happened faster than ever this year and we're all just sitting here wondering: "Where the heck did summer go?"
It's always a little bittersweet waving "goodbye" to the warm, summer days and fun cookout dinners that go along with them. But, as we compiled this list of our favorite fall recipes, we couldn't help but get excited about the changing season and all the excitement that autumn brings.
In this article, we're sharing some of our favorite fall recipes, from vegan pumpkin cornbread to pumpkin seed pad thai noodles. And if you're worried about the little ones eating these meals, well… don't be! Even the pickiest eaters will be licking their plates (or bowls) clean.
Garden Vegetable Soup by @thefullhelping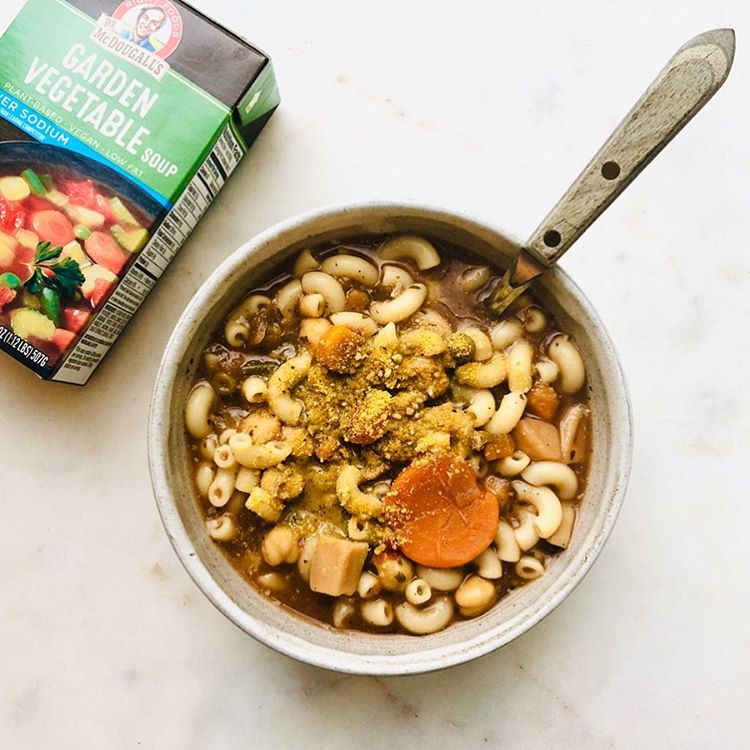 Up first: an easy and delicious vegetable soup, because what fall recipe list is complete without one?
This garden vegetable soup is just what the doctor ordered for those cool fall days when you want something satisfying and filling, but you don't have the time to prepare a full three-course meal.
Gena, over at The Full Helping, made a yummy soup even yummier. And not only is it tasty, but it's actually really simple, too. Here is how she created this fall favorite:
Ingredients:
1 container Right Foods Organic Garden Vegetable Soup
1 cup cooked pasta of your choice (elbows, shells, etc.)
2/3 cup cooked chickpeas (or white beans, or lentils)
1 tablespoon nutritional yeast (or nutritional yeast blitzed in the food processor with cashews to make vegan parmesan)
Directions:
Combine all of the ingredients above, and heat them up in a small pot until warmed-through. That's it! Serve your soup with crackers, vegan parmesan cheese or any other fun, fall-style toppings that you'd like to throw in. The sky's the limit!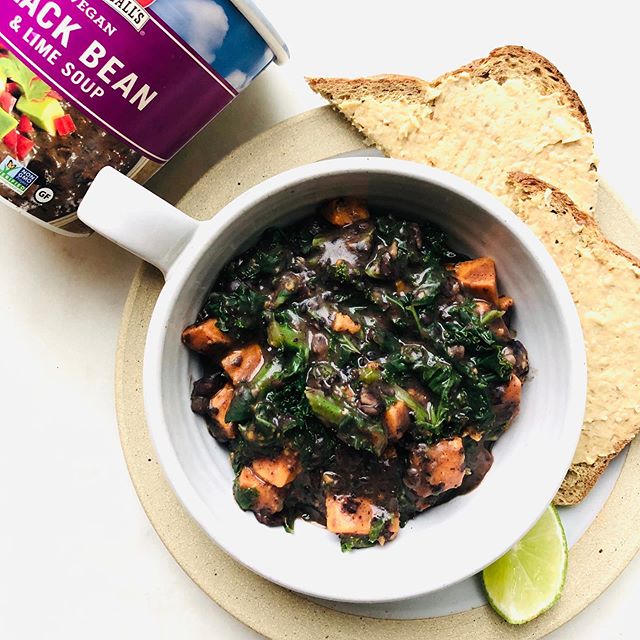 We love a good chili, especially when it's easy to prepare and tastes like fall- and this version (also created by @thefullhelping) absolutely screams fall.
To make this vegan chili you'll need:
1 big cup Right Foods Black Bean & Lime GF Soup
1 small sweet potato, cut into small cubes and steamed or microwaved till tender (about 10 minutes)
2 cups chopped kale (you can use frozen, steam with the potatoes, or microwave)
Fresh lime wedges
Directions:
Prepare the Black Bean & Lime Soup according to package instructions. When that's done, fold in the cooked potato and kale, season to taste with lime, and enjoy! This fall recipe makes about 2 servings, or one really generous helping.
Classic cornbread just got an upgrade! And let us just say: the smell of this pumpkin cornbread baking is hands-down one of the most comforting and delicious smells that will ever waft through your kitchen.
Made with simple, easy-to-find ingredients that the whole family will love, you'll never go back to regular cornbread after trying this recipe.
Does anything better suit a bowl of french lentil soup than pumpkin cornbread? We don't think so, but we'll let you be the judge of that. Speaking of soup, here's a recipe for our favorite french lentil chili that will complement this fall-themed vegan cornbread like it truly deserves.
Sweet Potato Nachos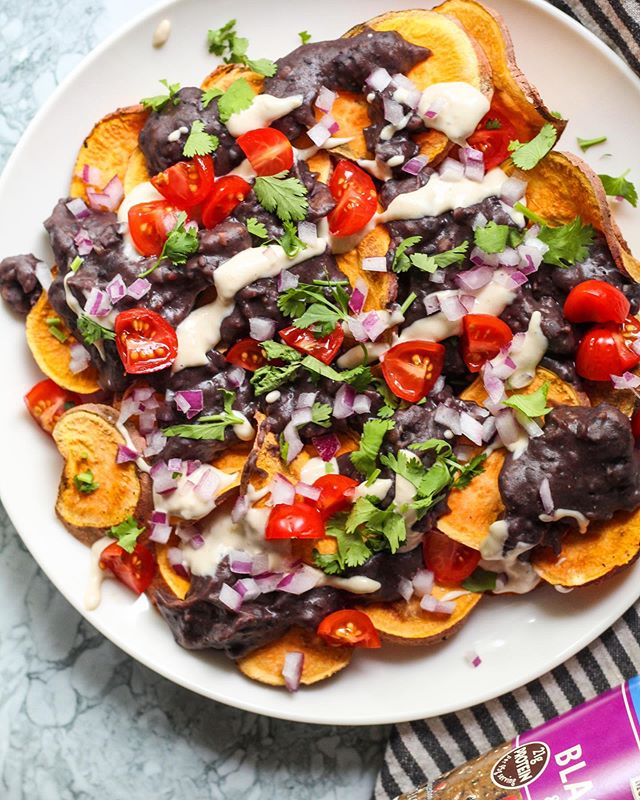 We just can't get enough of @plantbasedrd's vegan sweet potato nachos! These were made using a black bean lime soup and a smattering of her favorite nacho toppings- but you can throw in whatever you'd like.
No soggy tortilla chips here, folks- just a whole lot of sweet potato-y goodness. These are a definite fall-favorite, perfect for game-day dinners, side dishes, and nights when you're not in the mood to cook.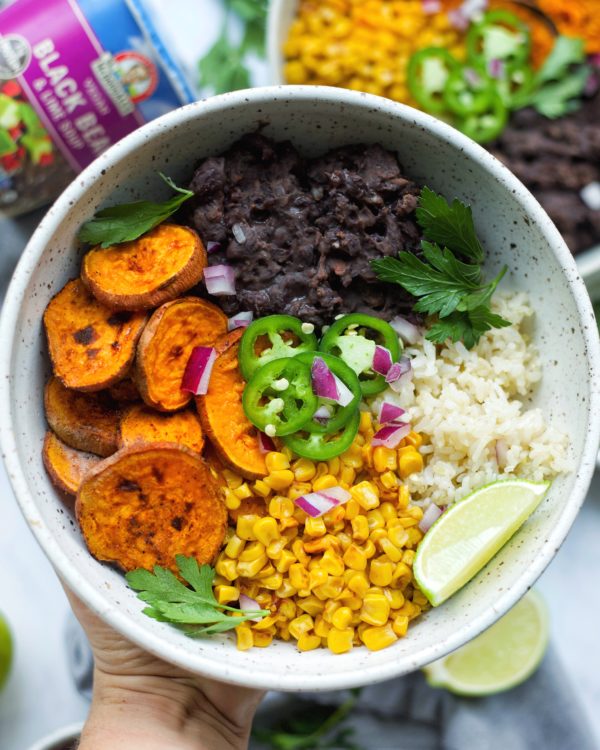 From the kitchen of Plantfully Based Blog, we bring you a hearty, warming fall favorite: a sweet potato black bean bowl that tastes even better than it looks.
This is a truly easy + truly satisfying meal that you can make in less than 30 minutes. Chock-full with black beans, grilled corn, brown rice, and sweet potatoes, this bowl makes a perfect lunch or dinner, or even a fancy midday snack.
A hearty list of butternut squash recipes is an absolute must-have for fall, and these butternut squash raviolis (also from @plantfullybased!) are sure to rank in your top favorite fall recipes this season.
Pumpkin Seed Pad Thai Noodles
Pad Thai is a classic meal staple that is beloved by all- no matter the time of year. But when you add pumpkin seeds this quickly becomes a fall favorite. It's so simple, you don't even need a recipe. Here are the simple directions for Marianna's autumn-themed version of our vegan pad thai:
"To make this bowl, I cooked 1 @rightfoods pad Thai noodle cup according to the package instructions / spiced it up with some pumpkin seeds and red pepper flakes / added the optional side of toast / all in under 10 minutes!"
Tahini Chickpea Stew by @plantbasedrd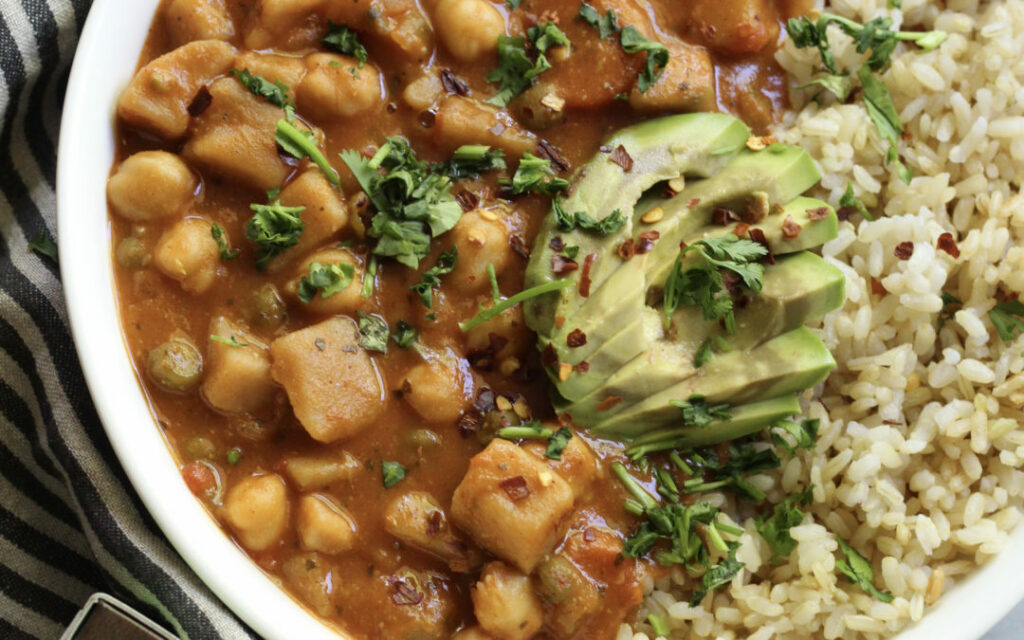 Here's a little kitchen hack for making a fast meal when you don't have a lot of time: use our garden vegetable soup as a base and then add in extra toppings and ingredients to make the meal your own! In this recipe, @plantbasedrd used our vegetable soup and added in chickpeas, tahini and paprika to give it a little extra kick!
"Having some extra @rightfoods Garden Vegetable Soup on hand made for a super fast tahini chickpea stew without any chopping necessary! Was able to enjoy this with some rice after a long day of client calls."
---
Of course, we'll miss summer picnics and hot nights when the sun didn't set until 9:00pm- but we're also excited for everything that comes with the changing season; hot bowls of heart-warming soup, sitting outside enjoying the fall colors and trying new fall recipes!
If you have a favorite fall recipe that you'd like to see us recreate, tell us below so we can whip up something fun.
Submit a Comment on Our Favorite Fall Recipes
Your email address will not be published. We will use your instagram URL to get your profile pic. All fields except instagram username are required.