Winter Soup Recipes
Chickpea (and tomato, and miso, and black bean) soup for the soul! When it's cold and wintery outside, these easy soup recipes *totally* have your back.
Parents and grandparents across the globe got it right: soup is the ultimate comfort food.
Easy to make, easier to eat, and full of flavorful ingredients- soups are a staple in many households, all year round. But when winter weather rolls around, your favorite soup recipes deserve a little extra love.
Below is a collection of the most delicious, easy, winter soup recipes that we have in our arsenal. These soups and stews can be made exactly how the recipe instructs, or you can tweak them a bit to make them totally your own. And the best part? Every spoonful is jam-packed with flavor!
From our kitchen to yours, we hope these recipes bring you lots of warmth and plenty of full bellies this winter season.
First up, a heavenly vegan noodle soup. The goal here was to achieve a delicious bowl of traditional ramen, without using any meat. We'd say: mission accomplished.
Calla Ramont (of @callascleaneats) cleverly packed this ramen bowl with vegan noodles, shredded cabbage and a few other of her favorite vegetables- which you can easily switch out for whatever veggies you prefer. This savory vegan ramen soup is exactly what you need in the cold depths of winter.
Catherine (of @plantbasedrd) relied heavily on our Garden Vegetable soup for this one, and it did not disappoint. This quick soup recipe makes for a perfect last-minute dinner.
The beauty of having a pre-made soup on hand during the winter is that you can eat it straight out of the box, or you can add a few ingredients (like this recipe) to completely change the meal.
All of the comfort, with a fraction of the work.
"I always love recommending these soups by @rightfoods to those needing plant-based food that is convenient and uncomplicated." -Catherine
This recipe for stick-to-your-ribs pumpkin chili (made with our vegan black bean soup) is exactly what you'll be reaching for when hunger strikes this winter.
Perfect for those dreary nights when you want something warm, fast, and delicious- a soup that the whole family is sure to love. And it's really simple, so you'll have dinner ready and on the table faster than the time it takes to make a snowman.
Talk about "instant cheer!" – and also, it's easy as heck.
We paired our minestrone soup with chickpeas, kale, carrots, a little garlic and topped it off with fresh rosemary- because duh! Perfect for holidays, potlucks, or quick "I want a winter soup" nights.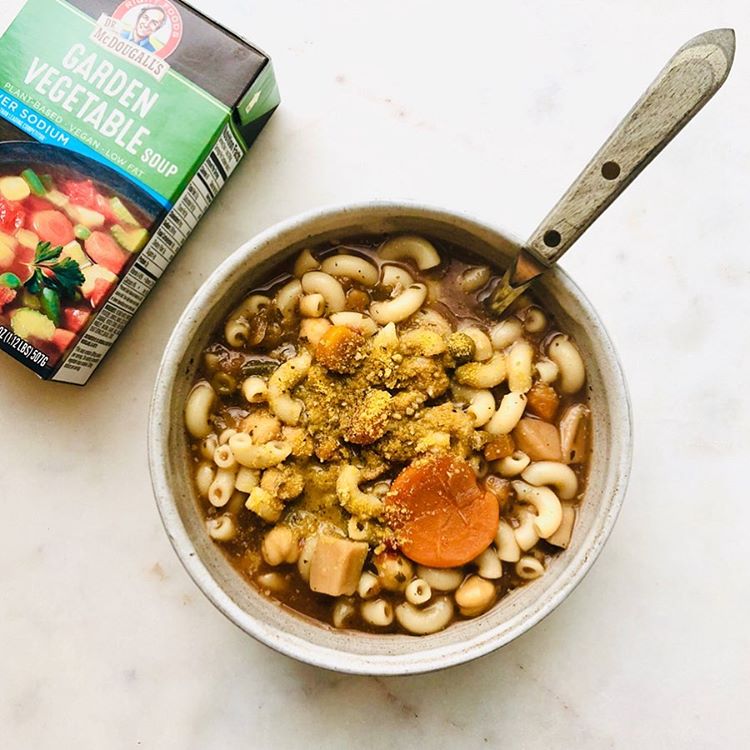 This super-simple-super-tasty vegetable soup will literally never let you down.
@thefullhelping made this vegetarian recipe in under just 15 minutes, and used ingredients that you likely already have sitting in your pantry.
Using our Garden Vegetable Lower Sodium soup as a base makes this heavenly soup the perfect thing for a winter weeknight when it's cold outside and you don't feel like cooking. Simply add noodles, a little seasoning and it's ready to serve! Serve it with a salad or some homemade garlic bread, or as is- this soup can definitely stand on its own.
Your wintry vegetarian go-to.
For rave-worthy winter soup recipes, skip the store-bought stock! With Right Foods soups, you can make a tastier, easier dinner in less time, with half the ingredients… that taste twice as good.
For her chili rendition, Brianna of @foodforgoodnesssake used the Organic Lower Sodium French Lentil soup, added a few out-of-the-box ingredients (helloooo farro!) and ended up with a soup that's as hearty as it is delicious. When it comes to winter soup recipes, this one should definitely be in rotation. 
Vegan Pad Thai Noodle Soup
A good noodle soup never gets old, and when it comes to easy winter soup recipes… this might be the easiest of them all.
Made with vegan noodles, a delicious and savory broth, and your favorite pad thai accoutrements, this winter soup will warm you to the bone and satisfy that craving for something hearty.
Do it in @eatsbyaustin fashion, and throw in some cilantro and lime for a more traditional bowl, or think outside the box, like @vegamelon, and add some fermented bean paste and garlic to pack a hefty punch!
Crafted by Calla of @callascleaneats, this winter soup recipe is fast, easy, and the ideal meal-for-two. Plus, it honestly tastes way better than any soup we've had at a restaurant. She paired our ready-to-serve tortilla soup with crushed tortilla chips and sliced avocado and called it a day.
Make it extra creamy by adding a little bit of coconut yogurt, or pour it straight from the box- either way, this tortilla soup will quickly become a wintery weeknight favorite.
Split Pea Soup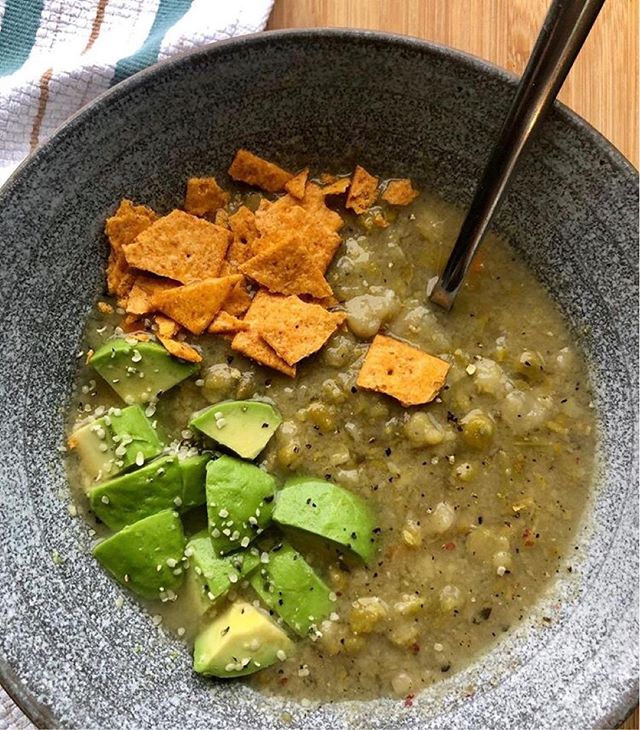 The amazingly creative @_intuitivelivingwithlil paired her split pea soup cup with almond flour crackers, hemp seed hearts & avocado chunks- we're speechless and salivating.
Or, you can follow this recipe for our simple Potato and Mint Pea Soup like your mom made growing up. This one is easy to make, and a great option if you're looking for soup-for-one on a cold night.
Add this soup recipe to your winter soup list, and tag us on Instagram if you make this recipe for yourself!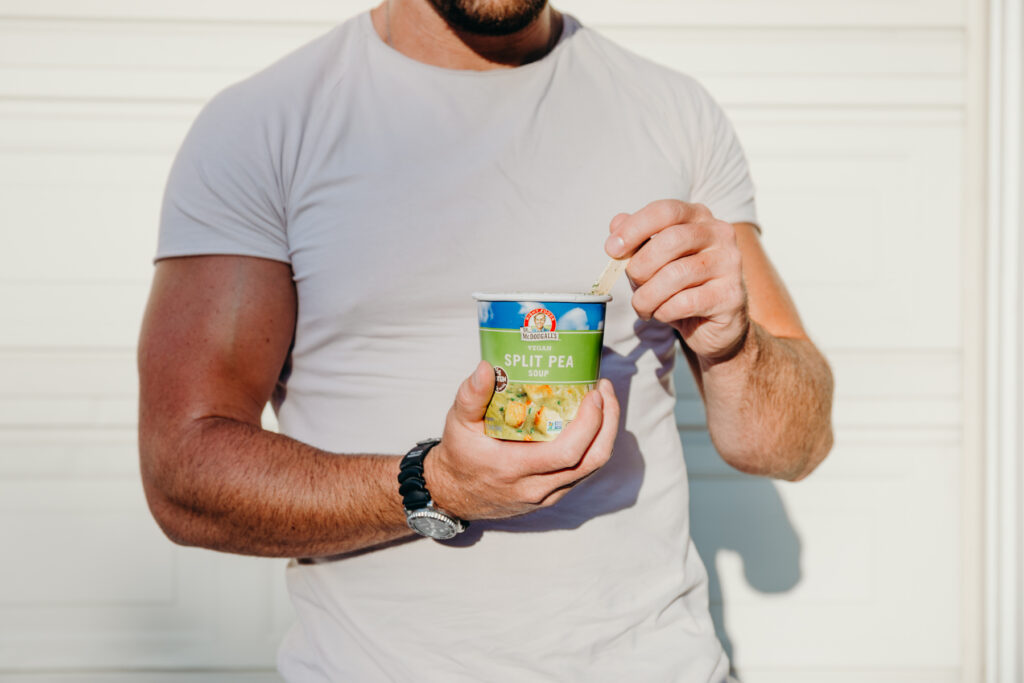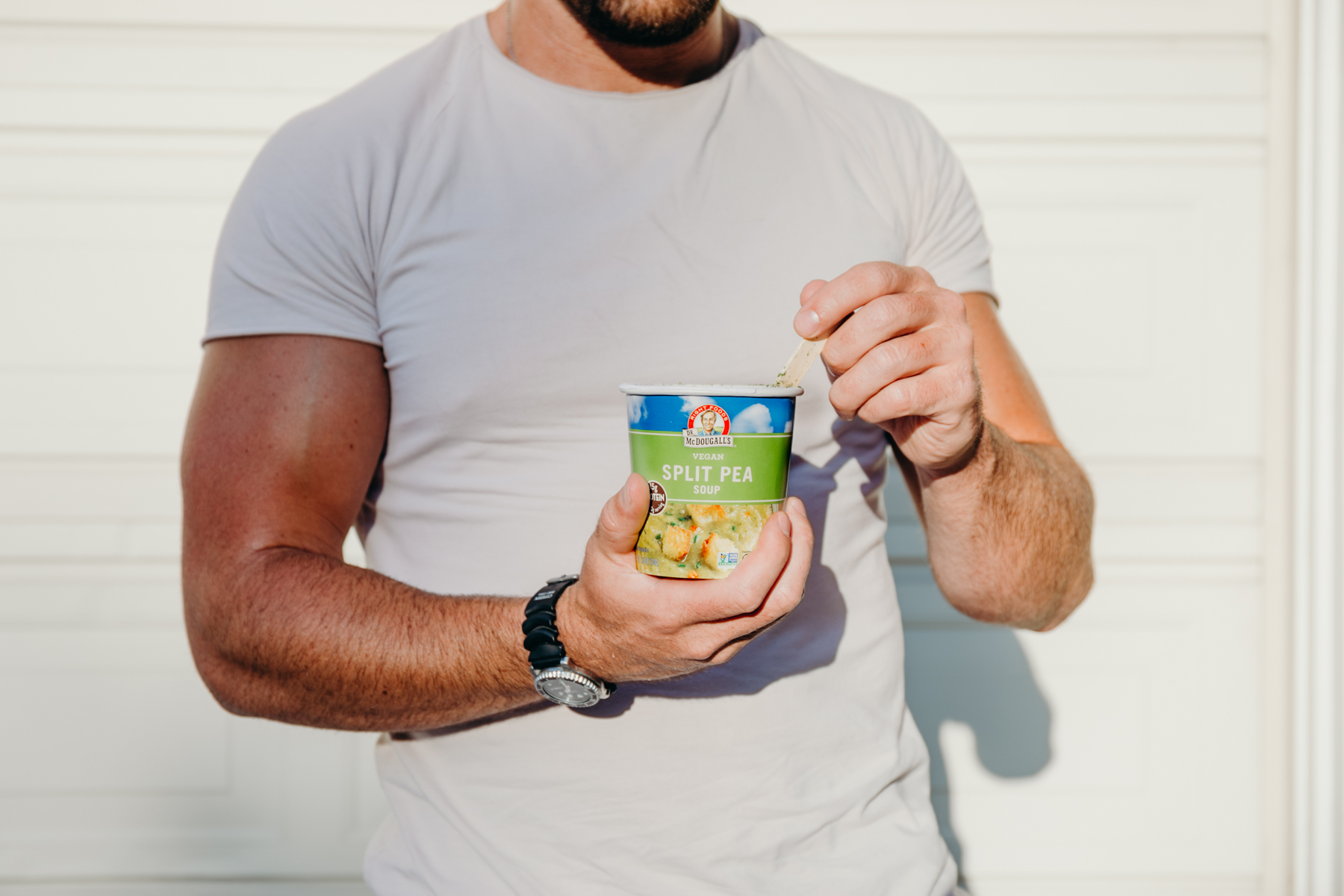 We think there's nothing more comforting than a warm bowl of soup on a cold winter day. Arm yourself with a full pantry of delicious soups and a hefty list of satisfying recipes that you can turn to when it's too cold to leave the house.
Do you have a favorite winter soup recipe? Share the link with us below so we can check it out!
Submit a Comment on Winter Soup Recipes
Your email address will not be published. We will use your instagram URL to get your profile pic. All fields except instagram username are required.