Gimme Some Oven: 5 Easy Recipes You Can Throw in the Oven and Forget
...Plus 5 Tips and Tricks for Using Your Oven Like a Pro!
If there's one thing we know for sure, it's that making meals is one of the best ways to bring order (and equally as important, ease) into our lives right now. We know that finding time in your day to cook a good, sit-down meal can be almost impossible, but we've got you covered with some of our favorite recipes to give your oven some lovin'.
Put your oven on double-duty tonight by making your food and warming your house, so you can spend your time relaxing, or skimming for new vegan recipes to try.
Here we've rounded up five of our favorite oven baked recipes.
When it comes to "easy vegan dishes you just throw in the oven" this recipe takes the cake. (The vegan cake, that is.)
Created by Francesca of @plantifullybased, this one just goes to show that even vegetarian meals can be of the stick-to-your-ribs variety. Gone are the frozen taquitos of your college days- time to swap out those old frostbitten rolls for these homemade tortilla soup taquitos!
This recipe makes sure that your dinner is simple- without being boring- by using ingredients like our Organic Tortilla Gluten-free soup, refried beans and some jalapeños, making these taquitos exceptionally flavorful. Twenty minutes in your oven, and these taquitos will be ready to show off on the dinner table.
Another delightful (and did we mention, vegan?!) recipe from the cozy kitchen of @plantifullybased, this deceptively cheesy side dish will have you coming back for seconds. Every. Single. Time.
With only a few minutes of prep time, you can throw this bake in the oven and forget about it for about 30 minutes while you focus on other things, like laughing at our collection of vegan memes or working out virtually with some of our favorite fitness influencers.
Here's another easy recipe you can stick in the oven and forget: vegan meatballs!
These meatless-meatballs, designed by @sweetsimplevegan, get their wonderful flavor from our Organic French Lentil soup. No one will know you used a convenient, pre-made soup to make these "meatballs"… unless you tell them. *wink wink*
You know what we love about tofu? Well, everything- but specifically we love tofu for the flexibility and diversity it offers vegan dishes. If you miss the meaty texture of your favorite dinners, you are in luck with this easy oven-baked recipe, also from Jasmine of @sweetsimplevegan.
You can use this easy, baked tofu in any dish that you would add meat to, and even some that you normally wouldn't! We especially love adding this crispy tofu to our Vegan Chicken Noodle soup cups and the Miso Soup with Organic Ramen Noodles to give them a little something extra. A few simple ingredients + a tiny bit of time prep time, then you simply stick your tofu cubes in the oven.
Beware: these will have your taste buds screaming, "gimme me some oven baked tofu!" every night.
5. Sweet Potato Nachos
These oven baked sweet potato nachos, from @plantbasedrd, were easily thrown together with the help of the black bean lime soup cup. Bake your sweet potatoes, prep your black bean soup cup, choose your favorite nacho toppings, then layer it all together. Simple, meet Delicious.
It's so easy that you don't even need a recipe- just an idea to get you motivated and inspired in the kitchen. Make your own vegan black bean soup nachos, and tag us on Instagram so we can see what you came up with!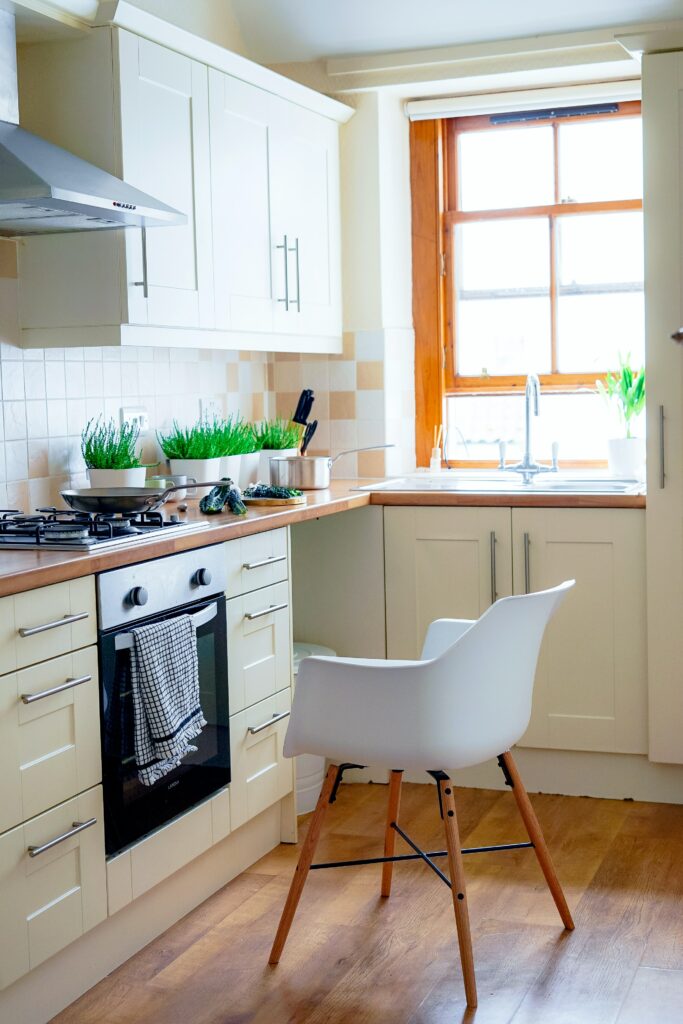 Gimme Some Oven Tips! 5 Tips for Using Your Oven
The truth is, your cooking skills are probably just fine. If you seem to burn everything you bake, or your food sticks to whatever you're using, cut yourself some slack. You may just need to brush up on how to use your oven properly.
Here are some tips that will help make any dish you put in your oven turn out perfectly. *Cue the French music playing somewhere in the background*
Keep Your Oven Clean
If you accidentally leave drips or crumbs in your oven, you could be sabotaging your food every time you use your oven. Those leftovers can smoke – or even catch fire- which can overheat the oven, or at the very least make your creations taste like ash.
For avid foodies who rely on their oven regularly, the general rule of thumb is to really get in there and scrub it clean once every three months.
If you find yourself barely using your oven (say, a few times a month), cleaning it once or twice a year should do the trick.
Refrain from Opening the Oven Door
We get it; it's tempting to peek inside the oven when your food is just sitting pretty. But you know what they say, "A watched casserole never bakes." Or is it, "A watched pot never boils"? Either way…
And not only that, but if you open the door before the time is up- as long as your recipe doesn't call for you to check on the contents- the temperature can drop dramatically, affecting how your food cooks. Instead, use the oven window to get a feel for how your fare is faring.
Leave Plenty of Room in Your Oven
Even if you have a large oven with plenty of space for multiple casseroles or pans, be careful not to overstuff it. It's important that you leave adequate space between each item so the heat can circulate around everything.
Also, if you're baking more than one dish, don't let them touch the sides of the oven. Better yet, put them on different racks!
Stock up on the Basics
Baking should be a fun way to nourish yourself, not a stress-laden experience that makes you want to run screaming from your kitchen.
To help your future self out, it's a good idea to keep your favorite basics on hand for nights when you want to make a tasty dinner, but DON'T want to go to the store.
Having a decent amount of easy-to-make foods and hearty staple ingredients will help motivate you to cook more, and might even encourage you to make eating-at-home a part of your daily routine.
Don't Get in Over Your Head
We love to be adventurous in the kitchen and try new recipes that we've never had before- it's super fun! What's not fun is getting half-way through a recipe and realizing that there are 25 more steps, and you don't own a spiralizer…
Prior to committing to a new recipe, read the directions thoroughly and make sure you understand what you're getting yourself into. If you're looking for some new recipes to try (that won't end up confusing you or stressing you out), go check out our post on 5 Quick and Delicious Meals!
If you're anything like us, you're always on the lookout for easier ways to make dinner at home- especially with the days getting shorter, the weather getting colder and our lives getting busier.
Hopefully the easy recipes above that you throw in the oven will help you eat well, in less time!
Disclaimer: If you put anything in your oven, please don't *actually* forget about it!
Submit a Comment on Gimme Some Oven: 5 Easy Recipes You Can Throw in the Oven and Forget
Your email address will not be published. We will use your instagram URL to get your profile pic. All fields except instagram username are required.