Free Shipping on Continental U.S. Orders over $45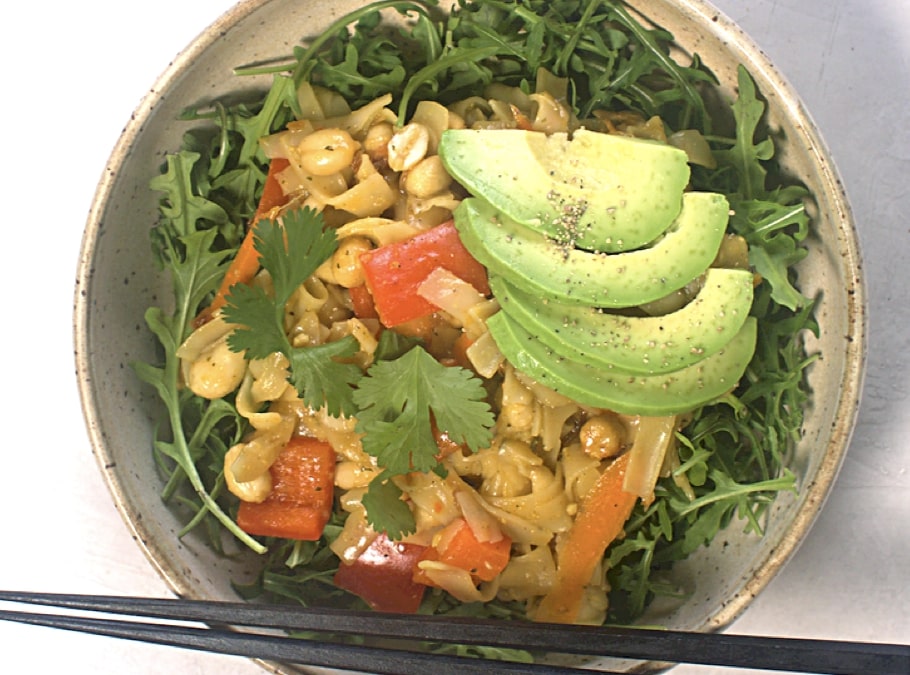 Arugula Pad Thai
Description
Need a quick and healthy pick-me-up for lunch? Try this super wellness bowl we created using our pad thai asian noodle soup loaded with fresh veggies on a bed of baby arugula!
Ingredients
1 unit cup of Right Foods Pad Thai Asian Noodle Cup
1 tsp garlic paste
red bell pepper, chopped
1/4 cup whole peanuts
avocado, sliced
2 tbsp shallots
2 tbsp shallots
1-2 cups fresh baby arugula
This Recipe Includes Right Foods Pad Thai Noodle Gluten Free Soup Big Cup
Instructions
In a large skillet, warm the garlic over medium heat and make sure pan is coated

Add in the prepared pad thai noodles and red pepper and toss around

Cook over medium heat, covered for about 5-8 minutes or until softened

While the noodles cook, stir together the sauce ingredients in a small sauce pan and add to noodles

Once sauce ingredients are well combined, pour on top of the noodles and mix well so all the noodles are covered in creamy sauce

Add in the nuts, avocado, shallots and carrots and add to a plate or bowl with the baby arugula sprinkled on the bottom – enjoy!
Review Arugula Pad Thai
Your email address will not be published. We will use your instagram URL to get your profile pic. All fields except instagram username are required.