Free Shipping on Continental U.S. Orders over $45
Asian Noodle Dumplings by Francesca of @plantifullybased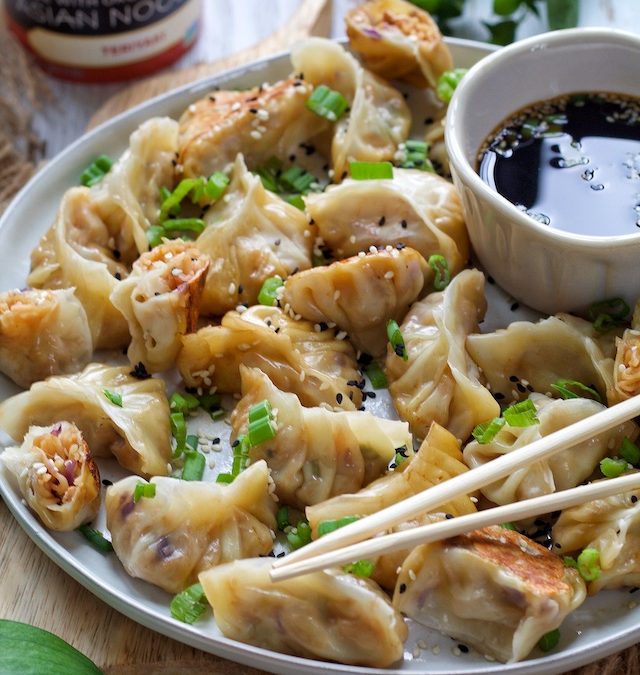 Asian Noodle Dumplings by Francesca of @plantifullybased
Description
Not only should you try our vegan ramen made with organic noodles but do what Francesca did and step outside the box by making dumplings! Using our packaged vegan teriyaki noodles gives it a savory and tangy flavor. This recipe is great to make for guests or bring to a party. Warning: it is so delicious there may not be any left overs!
Ingredients
2 units of Right Foods Teriyaki Noodles
1/4 cup red cabbage shredded
1/4 cup green cabbage shredded
2-3 stalks of green onion chopped
2 1/4 cups of flours
3/4 cup warm water
1/4 tsp salt
This Recipe Includes Right Foods Asian Noodles Teriyaki Soup Cup
Instructions
If using homemade wrappers prepare the dumpling dough. Add all ingredients into a bowl and mix until you get a shaggy dough. Mix with chopsticks or a spoon, the dough will be hot since the water is boiling.

Once the dough cannot be combined in the bowl anymore, flour your surface and pour dough out onto it. Using your hands knead the dough for about 10 minutes. Until you are able to form a smooth ball.

Then take the dough ball cut it into 2 halves. Form those halves into a bagel shape. Cover them and set aside for 20 minutes.

Skip to here if you are using store-bought wrappers. While the dough rests add the filling ingredients into a big pan. Add the flavor packets and fill both cups to the fill line. Add the water to the pan and cover. Cook on a low heat for about 10 minutes to allow the noodles and veggies to soften. There should be very little liquid left and everything should be cooked.

Take the dough and cut the bagel in half. Then line up the 2 long halves and cut it into 6-8 equal sized pieces. Do this to both bagels and you will end up with anywhere from 24-32 balls which will become your wrapper. *skip step if you are using store-bought wrappers.

You can then roll out each individual dough ball into a thin small circle. If using store-bought wrappers no rolling will be necessary and you can proceed to fill them. Take about 1/4 - 1/2 tsp filling and place it in the center of the dumpling wrapper.

Line the edge of the wrapper with a little bit of water. Fold and pleat the dumpling in your desired fashion, just make sure they are sealed tight so they don't open while they are steamed. Cover the dumplings with a dish towel after they are done being made.

Once you are ready put them into a big pan and add 1/2 cup of water. Cover with a lid and cook for 10 minutes on a low heat or until all the water is gone. To get a crispy bottom let them cook for 1 extra minute with no water in the pan. If you do not have a big enough pan you may need to split them up and cook half at a time.

Garnish with sesame seeds and more green onion. Eat alone or dip in some soy sauce if you like.
Review Asian Noodle Dumplings by Francesca of @plantifullybased
Your email address will not be published. We will use your instagram URL to get your profile pic. All fields except instagram username are required.