Free Shipping on Continental U.S. Orders over $45
Back to the Full Recipe Page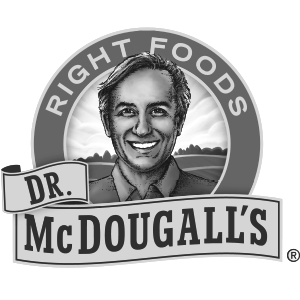 Black Bean Buddha Bowl
Description
All of your favorite veggies in one place! We packed this bowl with tons of plant-based noms like boiled sweet potato, lentil quinoa, baby arugula, avocado, chickpeas and our black bean & lime soup! Drizzle some tahini sauce and sprinkle some sesame seeds for the ultimate treat.
Ingredients
1 unit Dr. McDougall's Black Bean and Lime Soup Cup

1 cup lentil quinoa

1 handful baby arugula

1/3 cup sweet potato

1/4 cup chickpeas

1 tbsp tahini sauce

avocado

sesame seeds
This Recipe Calls For Right Foods Black Bean & Lime Gluten Free Soup Big Cup, Which you can Purchase on
https://rightfoods.com
Instructions
Prepare Black Bean & Lime Soup according to package instructions and set aside. In saucepan, allow water to boil and add sweet potato cut into chunks. After a few minutes remove from heat and add quinoa until cooked.

In bowl, add quinoa, black bean & lime, sweet potato and baby arugula. Add chickpeas in center of bowl.

Drizzle with tahini sauce and sprinkle sesame seeds for garnish. Enjoy!