Free Shipping on Continental U.S. Orders over $45
Black Bean Quinoa Buddha Bowl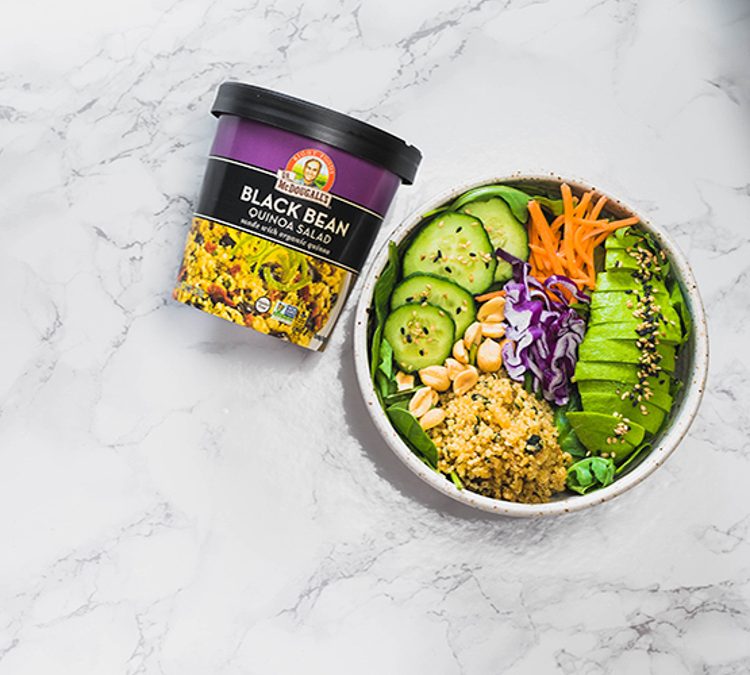 Black Bean Quinoa Buddha Bowl
Description
Looking to find balance in your hectic summer? Look no further to nourish your body with this Black Bean-Quinoa Buddha Bowl. Each item in your bowl perfectly balances with the next item... And it tastes darn delicious!
Ingredients
1 cup Right Foods Black Bean Quinoa Salad
1 cup spinach
1/4 cup shredded carrots
1/4 cup shredded purple cabbage
1 avocado
1/2 cucumber
1 teaspoon black and white seasame seeds
1/4 cup peanuts
Instructions
Cook Black Bean Quinoa Salad according to package instructions.

Slice your cucumber into 1/8" slices and set aside.

Slice your avocado lengthwise and remove pit. With the slice side up cut 1/2" slices across making sure not to pierce through the skin. Then, invert the avocado over and peel back the skin. Set aside the sliced avocado

Grab your favorite bowl and lay the spinach at the bottom. Then top with Black Bean Quinoa, avocado, cucumber, carrots, cabbage, and peanuts. Then garnish with sesame seeds.
Review Black Bean Quinoa Buddha Bowl
Your email address will not be published. We will use your instagram URL to get your profile pic. All fields except instagram username are required.