Free Shipping on Continental U.S. Orders over $45
Black Bean Quinoa Chili by Lenny Wu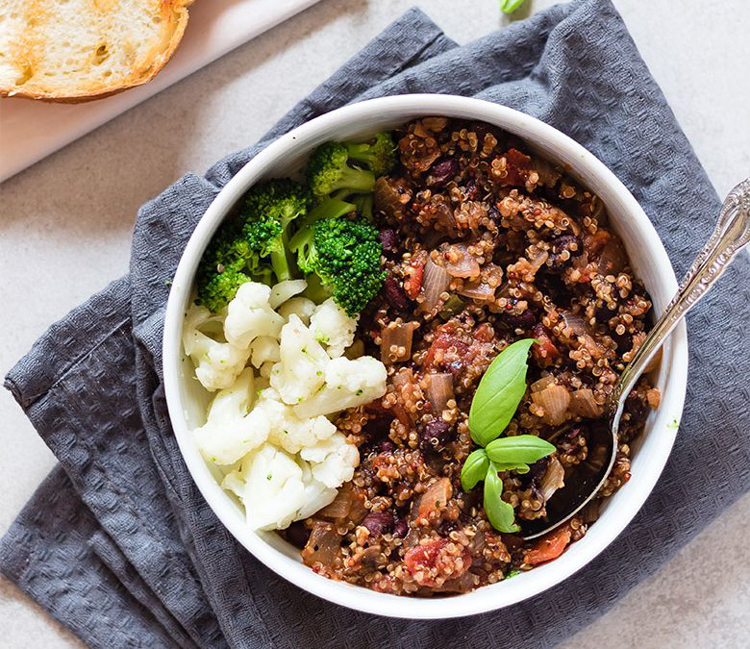 Black Bean Quinoa Chili by Lenny Wu
Description
As fall is quickly settling in with cooler weather, nothing quite comforts the soul like a hearty bowl of chili! This delicious bowl is seasoned with just the right blend of spices and everything nice. People get excited for pumpkins but we get excited about chili! Thank you Lenny, @vegamelon, for this perfect fall chili recipe.
Ingredients
1 unit Dr. McDougall's Black Bean Quinoa Salad
1 onion diced
3 cloves garlic minced
1/2 tsp cumin
1/2 tsp paprika
1/2 tsp cayenne
1 serrano pepper or pepper of choice, minced
1 can 14 oz diced tomatoes
1 can 14 oz black beans, rinsed and drained
1.5 cup vegetable broth
Instructions
In a large pot, sautee the onion with some water over medium heat.

After 4-5 minutes, add in the garlic, spices, and chopped pepper; stir and coat evenly.

Mix in the beans, tomatoes, quinoa salad + flavoring, and broth.

Cover the pot and bring to a boil, then lower the heat and cook for 15-20 minutes, or until quinoa is cooked through. Add more broth if needed.

When ready to serve, remove from heat and enjoy!
Review Black Bean Quinoa Chili by Lenny Wu
Your email address will not be published. We will use your instagram URL to get your profile pic. All fields except instagram username are required.