Free Shipping on Continental U.S. Orders over $45
Black Bean Tostadas with Blackened Corn Salsa by @thecuttingveg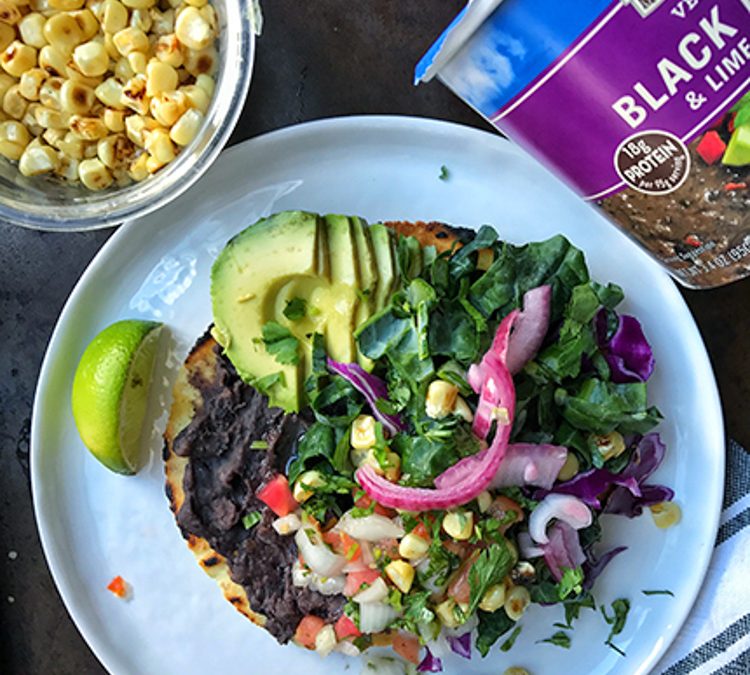 Black Bean Tostadas with Blackened Corn Salsa by @thecuttingveg
Description
Ingredients
1 tsp coconut oil
2 ears corn, cut off the cob
1/4 cup red onion diced
2 tomatoes, seeds slightly removed and diced
1 serrano or jalapeno pepper, seeded and minced
sea salt to taste
black pepper to taste
1 lime
1/3 cup cilantro chopped
(Black Bean Tostadas) - 1 container Right Foods Black Bean & Lime Soup
(Black Bean Tostadas) - 1 lime juiced
(Black Bean Tostadas) - 1/2 tbsp coconut oil
(Black Bean Tostadas) - 4-8 corn tortillas
(Black Bean Tostadas) - 3-4 kale leaves finely sliced
(Black Bean Tostadas) - pickled onions optional
This Recipe Includes Right Foods Black Bean & Lime Gluten Free Soup Big Cup
Instructions
(Grilled Corn Salsa) Heat coconut oil in a cast iron skillet over medium heat.

Add corn to skillet and cook until corn is blackened in spots for about 5 minutes. Set corn aside in a bowl.

Toss with remaining salsa ingredients and stir.

Taste and adjust seasonings as needed for your preferred flavor. Set aside for 15 minutes to let flavors marinate.

(Black Bean Tostadas) Heat a skilled over medium heat and add 1/4 tsp coconut oil for each tortilla. Cook for 30-60 seconds per side. Remove and let drain on a paper towel

Assemble the tostadas by spreading black beans on each of the corn tortillas.

Top it off with roasted corn salsa and shredded kale. Add pickled onions and cilantro, if desired. Enjoy!
Review Black Bean Tostadas with Blackened Corn Salsa by @thecuttingveg
Your email address will not be published. We will use your instagram URL to get your profile pic. All fields except instagram username are required.