Free Shipping on Continental U.S. Orders over $45
Cold Noodle Salad by Francesca of @plantifullybased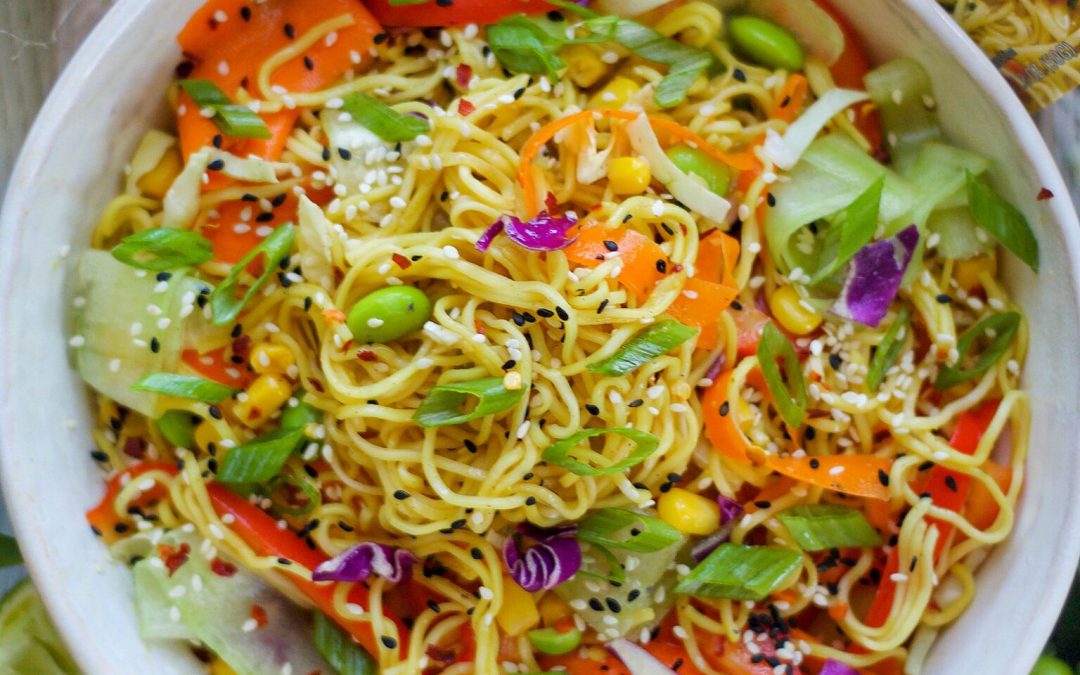 Cold Noodle Salad by Francesca of @plantifullybased
Description
Love our ramen but in a salad mood? Have the best of both worlds! Use our organic ramen noodles and flavor packet as a base for this yummy, veggie-loaded noodle salad.
Ingredients
1 unit Right Foods vegan chicken ramen
1/2 cup water
1/2 bell pepper, julienned
1 small carrot peeled into ribbons
1/2 cucumber cut into ribbons
1/2 cup corn
1/3 cup shelled edamame
Small handful cabbage shredded
1/2 lime juice
1/2 tbsp low sodium soy sauce
Red pepper flakes to taste
1/4 tsp ginger powder
1 tbsp maple syrup
Green onion and sesame seeds, for garnish
This Recipe Includes Right Foods Vegan Chicken Soup with Organic Ramen Noodles Big Cup
Instructions
Prepare the ramen by adding 1/2 of the flavor packet and 1/3 cup of water to the noodles. You can either cook on the stove until soft or microwave. Microwave for 30 second intervals and continue to stir until noodles have softened. After about 2 minutes of microwaving, cover and let them stand for 10 minutes.

Prepare the vegetables by julienning the pepper. Using a peeler you can make the cucumber and carrot into ribbons. If using frozen corn and edamame microwave until lightly warmed.

Once the noodles are soft, lightly rinse them in cold water to separate. Do this quickly so you don't rinse off the seasonings.

In a big bowl add the noodles, pepper, carrot, cucumber, corn, edamame, cabbage, lime juice, soy sauce, maple syrup, ginger powder, red pepper flakes and toss everything together. Make sure everything is well incorporated and and evenly coated in the sauce.

Garnish with green onion and sesame seeds. You can refrigerate or enjoy right away.
Review Cold Noodle Salad by Francesca of @plantifullybased
Your email address will not be published. We will use your instagram URL to get your profile pic. All fields except instagram username are required.