Free Shipping on Continental U.S. Orders over $45
Back to the Full Recipe Page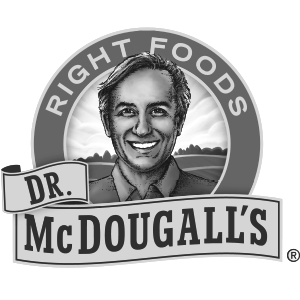 Cuban Black Bean Soup
Description
This jazzed up soup cup recipe makes this a perfect on the go meal that feels homemade and fresh. Our already nourishing soup cups are vegan and low in sodium. Adding fresh tomatoes and a hint of cumin turns this cup into a hearty Cuban meal.
Ingredients
1 carton Dr. McDougall's Organic Lower Sodium Black Bean RTS Soup

¼ tsp smoked paprika

1/8 tsp ground cumin

Juice of ½ lime

¼ bell pepper, sliced

Handful of fresh baby tomatoes, sliced

1 tbsp plant-based yogurt (optional)

Handful of chopped cilantro
This Recipe Calls For Right Foods Organic Black Bean Gluten Free Lower Sodium Soup, Which you can Purchase on
https://rightfoods.com
Instructions
Pour the contents of the Organic Lower Sodium Black Bean RTS Soup into a medium-sized saucepan and water on medium to low heat.

Add in the spices, stir to combine, and heat through, but do not boil.

Top with the bell pepper, tomatoes, plant-based yogurt and chopped cilantro.

Squeeze the lime juice over and enjoy your fulfilling meal.