Free Shipping on Continental U.S. Orders over $45
Easy Black Bean Burrito by @plantbasedrd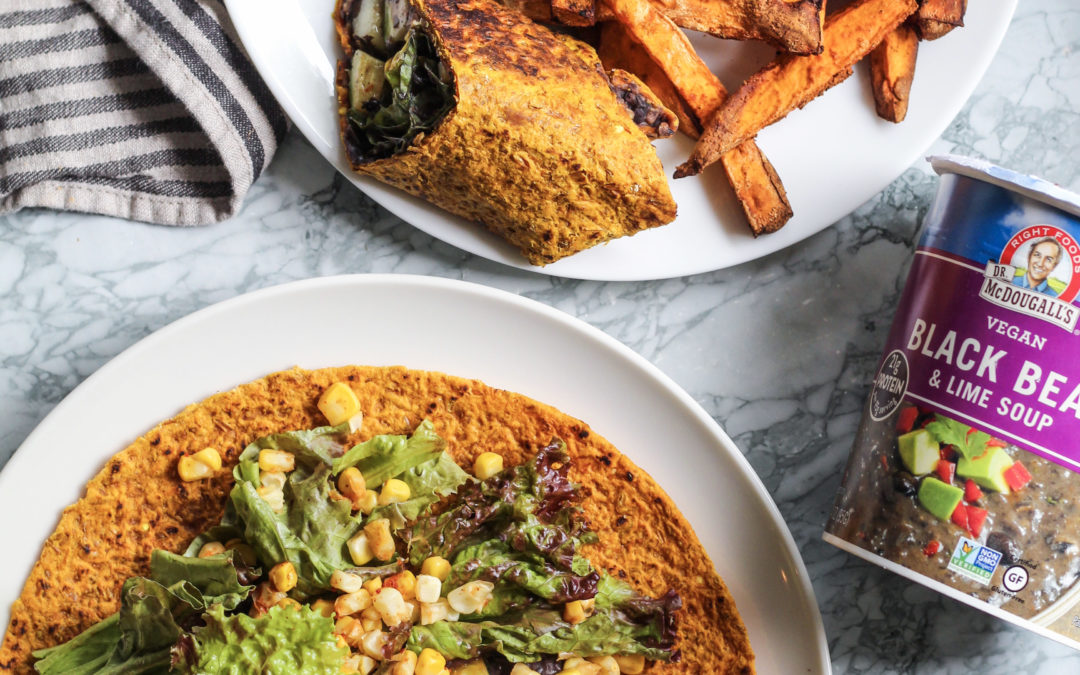 Easy Black Bean Burrito by @plantbasedrd
Description
Quick and tasty wraps always hit the spot! @plantbasedrd used our black bean & lime soup to perfect a yummy vegan burrito paired with sweet potato fries
Ingredients
1 unit Dr. McDougall's Black Bean and Lime Soup Cup
3 whole grain wraps
hot water
1 tbsp nutritional yeast
1-2 tsp hot sauce of choice
1 veggie of choice, diced
1 cup greens of choice
1/2 cup frozen corn, thawed
avocado
This Recipe Includes Right Foods Black Bean & Lime Gluten Free Soup Big Cup
Instructions
Add hot water, nutritional yeast and hot sauce to Black Bean & Lime soup cup - stir and allow to cool and thicken.

Add 3-4 tbsp of your black bean mixture, 2-3 slices of sauted veggies, a few green leaves, 2 tbsp of corn, and 1-2 slices of avocado to whole grain wrap.

Carefully wrap and roll into a burrito, serve with sweet potato fries - enjoy!
Review Easy Black Bean Burrito by @plantbasedrd
Your email address will not be published. We will use your instagram URL to get your profile pic. All fields except instagram username are required.