Free Shipping on Continental U.S. Orders over $45
Eggplant Cauliflower Curry with Potato & Kale Quinoa by @vegamelon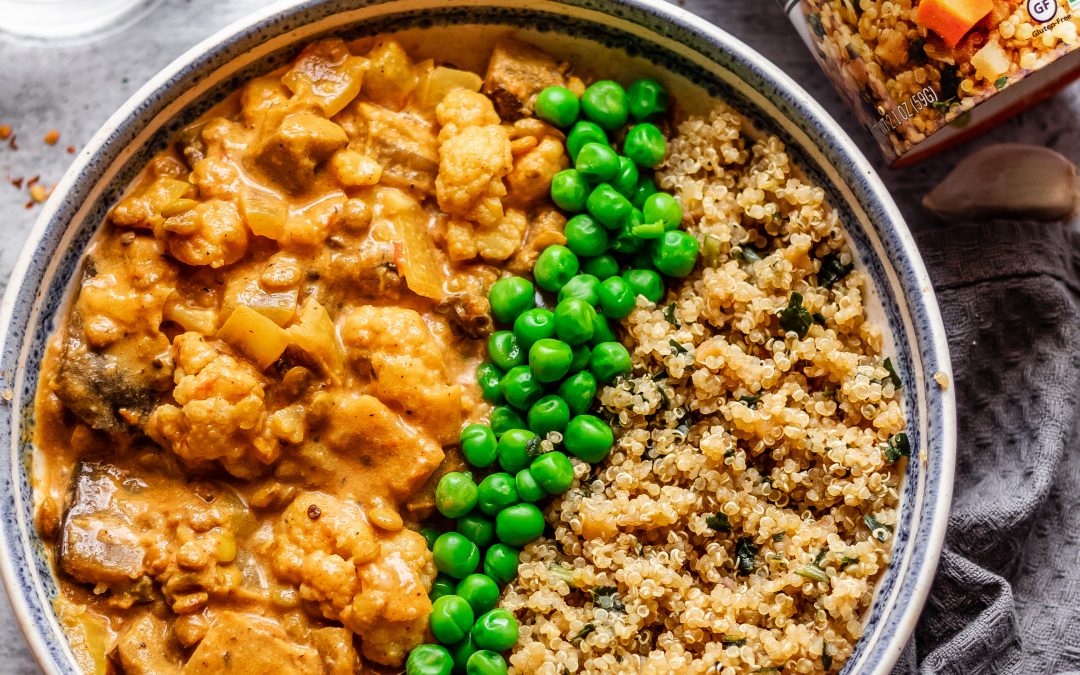 Eggplant Cauliflower Curry with Potato & Kale Quinoa by @vegamelon
Description
Ingredients
1 unit Right Foods sweet potato and kale quinoa salad
1 large eggplant, chopped into cubes
3 cups cauliflower florets
oil
salt & pepper to taste
1 large onion, diced
3 cloves garlic, minced
1 tbsp ginger, minced
1 tsp salt
1 tsp turmeric
1/2 tsp black pepper
1/2 tsp chili powder
1/2 tsp cinnamon
1/2 tsp paprika
1/2 tsp ground coriander
2 ripe tomatoes diced
1/2 cup brown lentils
1/2 cup water
3/4 cup full-fat coconut milk
Instructions
Preheat your oven to 425F/220C

Place the eggplant and cauliflower on a lined baking tray, then drizzle with oil and sprinkle on salt and pepper. Roast for 20-25 minutes or until fork-tender.

Saute the onion, garlic, and ginger in a large saucepan. Add in spices and incorporate well; once fragrant, stir in tomatoes, lentils, and water.

Cover the pot and simmer on low heat for 10 minutes, then stir in roasted veggies and coconut milk. Cover again for 5-10 more minutes, until lentils are tender.

Remove from heat and serve warm with Right Foods sweet potato kale quinoa salad.
Review Eggplant Cauliflower Curry with Potato & Kale Quinoa by @vegamelon
Your email address will not be published. We will use your instagram URL to get your profile pic. All fields except instagram username are required.