Free Shipping on Continental U.S. Orders over $45
Healthy Lo Mein by Francesca Bonadonna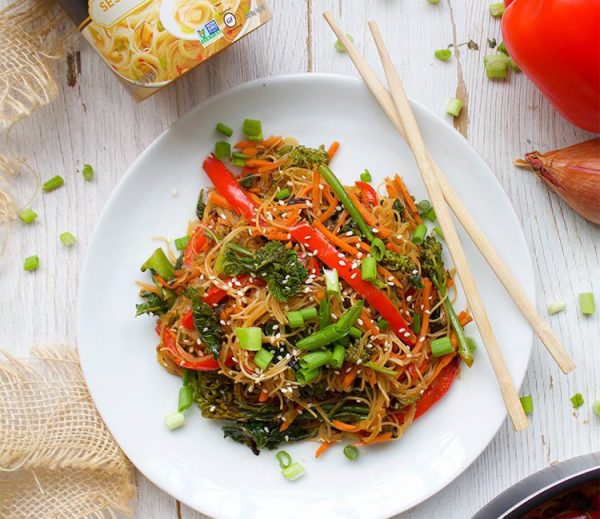 Healthy Lo Mein by Francesca Bonadonna
Description
Simple, healthy and delicious! That's what we strive for with each and every recipe. Francesca of @plantifullybased has created a recipe for a healthy lo mein that you can enjoy anytime, anywhere. Forget Chinese takeout, and try this Asian inspired dish topped with healthy vegetables!
Ingredients
2 units Dr. McDougall's Sesame Chicken

1/2 cup water

1 cup kale, chopped

1 bell pepper, julienned

1/2 cup shredded carrots

1/2 cup shredded carrots

5 stalks broccolini

1/2 cup shallot, chopped

(Sauce) 3-4 tbsp soy sauce

(Sauce) 1 tbsp rice wine vinegar

(Sauce) 1/2 tbsp maple syrup

(Sauce) 2 tbsp water
This Recipe Includes Right Foods Sesame Chicken Rice Noodle Soup
Instructions
Pour the contents of the sesame chicken containers into a pot. Add 1/4 cup of water and 1 package of flavoring. Save the other to use in future soups!

Cook noodles on low heat until they have softened. It should only take about 5 minutes.

Prepare veggies and add them all into a pan with 1/4 cup of water. Cook on medium heat until the vegetables have softened and are cooked. About 5-7 minutes of cooking.

Once veggies and noodles are done. Add them into the same pan.

Add the sauce ingredients and toss around. Cook for 2-3 minutes. This will help sauce to thicken a bit.

Garnish with green onion and sesame seeds if you like and enjoy.
Review Healthy Lo Mein by Francesca Bonadonna
Your emaill address will not be published. We will use your instagram URL to get your profile pic. All fields except instagram username are required.