Free Shipping on Continental U.S. Orders over $45
Heavenly Lentil Quinoa Macro Bowl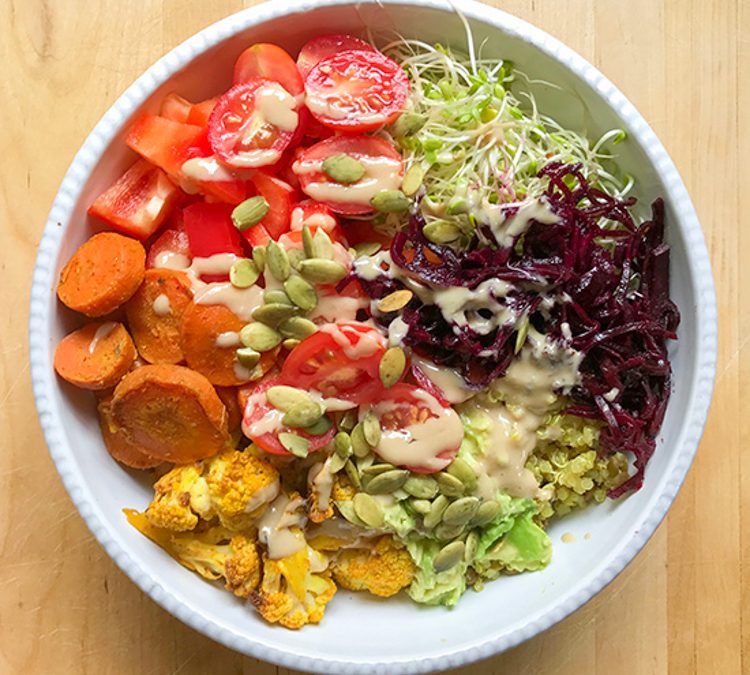 Heavenly Lentil Quinoa Macro Bowl
Description
We LOVE macro bowls in our kitchen and love how easy they are with our Lentil Quinoa Salad Cup! "What is a macro bowl?" you might ask? It's a happy belly bowl filled with greens, veggies, healthy fats, carbs, proteins, and topped with living foods like seaweed or kimchi. Check this out for the perfect beautiful lunch!
Ingredients
1 Dr. McDougall's Lentil Quinoa Salad Cup
1/2 teaspoon curry powder
1 carrot, sliced
1/4 head cauliflower, chopped
1/2 cup any sprouted green
1/4 red bell pepper, sliced
1 handful baby tomatoes, halved
1/4 fresh avocado, mashed
1 tablespoon raw pumpkin seeds
1 tablespoon tahini
1/4 cup beet kimchi or purple kraut
Instructions
Start by Preheating your own to 425*F. Toss the chopped cauliflower and sliced carrot with curry powder, add then to a baking sheet, bake for 25 minutes, then remove from the oven and let cool

Next, cook the Lentil Quinoa Salad cup according to package instructions.

The rest is easy! Put the roasted veggies, quinoa, sprouts, avocado, tomatoes, bell pepper, and avocado in a bowl, top with the pumpkin seeds, tahini, and beet kimchim and serve up!
Review Heavenly Lentil Quinoa Macro Bowl
Your email address will not be published. We will use your instagram URL to get your profile pic. All fields except instagram username are required.