Free Shipping on Continental U.S. Orders over $45
Kimchi Ramen Noodle Stir Fry by Sarah of @thecuttingveg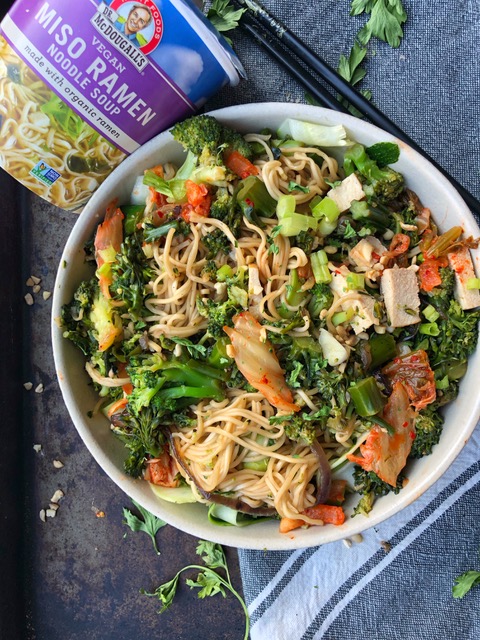 Kimchi Ramen Noodle Stir Fry by Sarah of @thecuttingveg
Description
This vegan, gluten free stir fry is made by the amazing Sarah of @thecuttingveg on Instagram. She used the noodles from our Miso Ramen noodle cup, adding in broccolini, kimchi, and tofu packed with a ton of flavor! We can't get enough of this yummy dish!
Ingredients
1 cup Right Foods Miso Ramen Noodle Soup, seasoning packet removed
2 scallions, whites and greens chopped and separated
1 clove garlic, minced
1 teaspoon grated ginger
3 stalks broccolini, chopped
2 teaspoons tamari
1/2 teaspoon sesame oil
1 cup water
1/3 cup kimchi
2 oz tofu, chopped
This Recipe Includes Right Foods Miso Soup with Organic Ramen Noodles Big Cup
Instructions
Heat avocado oil in a large skillet over medium heat. Add scallion whites and saute until slightly browned, approximately 3 minutes.

Add garlic and ginger and cook until fragrant, around 1 minute more.

Add broccolini and toss to mix up with scallion and garlic mix. Cook until slightly tender, approximately 5 minutes.

Add tamari, sesame oil, and water, and stir to combine. Add @rightfoods noodles and stir to coat in liquid. Cover and cook for ~5 minutes, stirring occasionally, until noodles are cooked through. You might need to add some additional water.

Once the noodles are cooked, add kimchi, tofu, and scallion greens.

EAT!
Review Kimchi Ramen Noodle Stir Fry by Sarah of @thecuttingveg
Your email address will not be published. We will use your instagram URL to get your profile pic. All fields except instagram username are required.