Free Shipping on Continental U.S. Orders over $45
Kung Pao Noodle Bowl by Francesca Bonadonna of @plantifullybased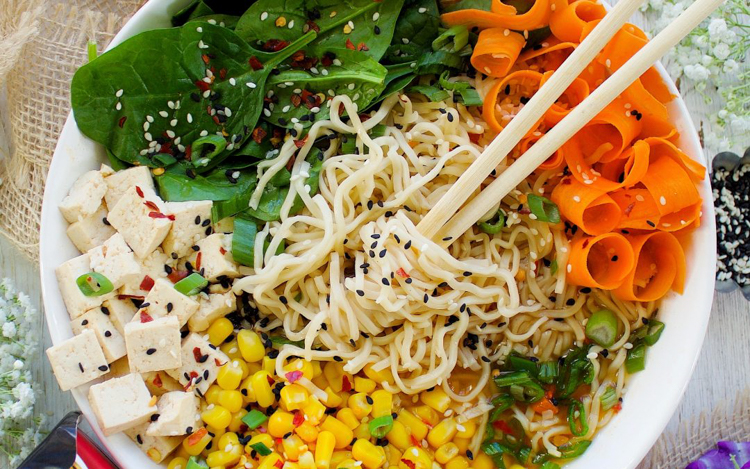 Kung Pao Noodle Bowl by Francesca Bonadonna of @plantifullybased
Description
Craving a little heat during these chilly months? Try out this Kung Pao Noodle Bowl by Francesca of @plantifullybased. This easily customizable bowl is ready in just 15 minutes and is packed full of flavor.
Ingredients
2 packages Right Foods Kung Pao Noodles
4 cups water
1 carrot
1/2 cup frozen corn, thawed or warmed up
1/4 block extra firm tofu, cubed
1/2 cup spinach
1-2 green onions, chopped
red pepper flakes, to taste
sesame seeds, for garnish
This Recipe Includes Right Foods Asian Noodles Spicy Kung Pao Soup Cup
Instructions
In a pot add 4 cups of water and the 2 flavoring packets from the packages. Bring water to a boil, allow contents of flavoring package to be dissolved into water.

Then add the noodles and tofu into the broth.

Cook until noodles are soft about 5-7 minutes.

Transfer the soup into a bowl.

Add the spinach, cooked corn and carrots on top.

To make it extra spicy add extra red pepper flakes on top. Garnish with green onions and sesame seeds.
Review Kung Pao Noodle Bowl by Francesca Bonadonna of @plantifullybased
Your email address will not be published. We will use your instagram URL to get your profile pic. All fields except instagram username are required.