Free Shipping on Continental U.S. Orders over $45
Leftover Lentil Soup Veggie Burgers by Jasmine Briones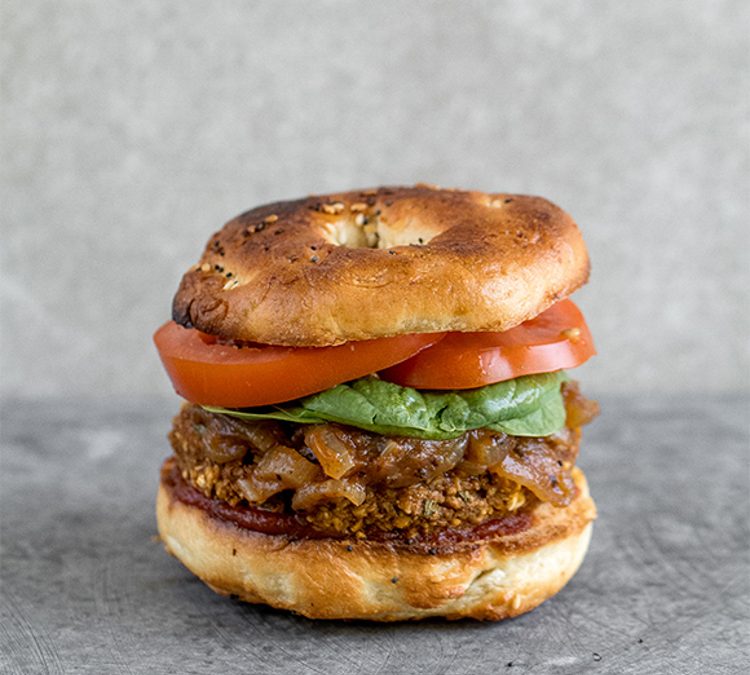 Leftover Lentil Soup Veggie Burgers by Jasmine Briones
Description
Ingredients
1 box Right Foods Lentil Vegetable with Kale Soup
1 cup rolled oats
1 tbsp flax meal
2 tbsps chickpea flour
1 tbsp nutritional yeast
1 tbsp ketchup
1 tsp dried chives
1 tsp garlic powder
1/4 tsp salt to taste
4 bagels
Garnish:
1/4 onion sliced thin
lettuce
tomatoes
ketchup
mustard
any additional fillings of your choice
This Recipe Includes Right Foods Organic Lentil Vegetable with Kale Gluten Free Soup
Instructions
Preheat oven to 375 F and line a baking sheet with parchment paper.

Strain the soup but reserve the liquid. Let it sit in strainer over a bowl for about 5 minutes to drip excess liquid, stirring often.

Add the strained soup into a food processor, along with the remaining ingredients for the patties. Scoop out 1/3 cup sized scoops, and form into 4 patties.

Place onto lined baking sheet, and bake for 15 minutes. Remove from oven, flip, then bake for a further 6 minutes.

As the patties bake, prepare your onions. Add your sliced onions to a pan, along with 1/4 cup of the strained liquid. Sauté over medium heat. When the liquid begins to cook off, add in 1/4 cup of the liquid at a time and if you run out, simply add in water. Continue cooking until the onions caramelize, about 11-12 minutes.

To assemble, add in a lentil burger and caramelized onions. Add whatever fillings your heart so desires and enjoy!
Review Leftover Lentil Soup Veggie Burgers by Jasmine Briones
Your email address will not be published. We will use your instagram URL to get your profile pic. All fields except instagram username are required.