Free Shipping on Continental U.S. Orders over $45
Lemony Lentil Wraps by @plantifullybased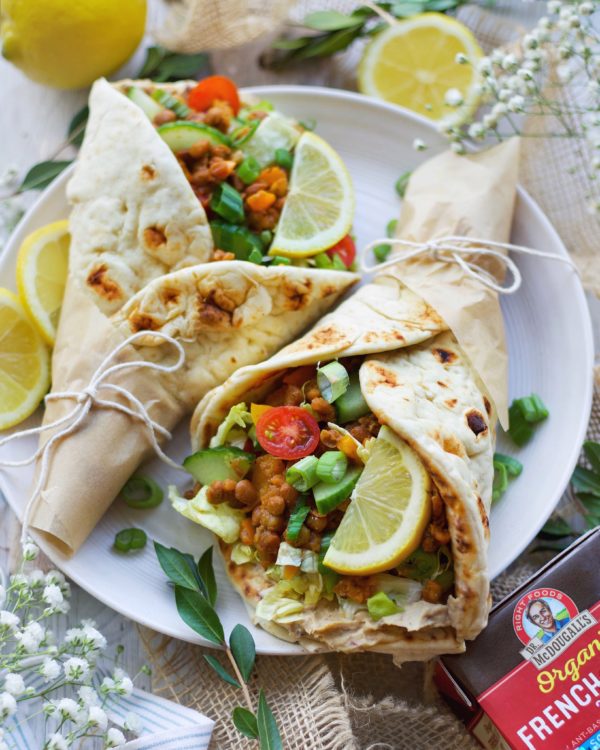 Lemony Lentil Wraps by @plantifullybased
Description
When life gives you lemons! @plantifullybased wrapped our hearts with these amazing lemon lentil wraps using our french lentil soup!
Ingredients
1 unit box of Right Foods French Lentil soup
1/2 cup bell pepper, chopped
1/2 cup lemon, juiced
1 tsp garlic salt
2 cups lettuce
1/2 cup cucumber
baby tomatoes, sliced
4 tbsp hummus
wraps or flatbread
green onion
This Recipe Includes Right Foods Organic French Lentil Gluten Free Lower Sodium Soup
Instructions
Strain the lentil soup and set the liquid aside.

In a non-stick fry pan pour 2-3 tablespoons of the liquid from the soup. Add in the peppers and lentils. Cook for 3-4 minutes on medium heat to soften peppers and warm up lentils.

Season the lentils with lemon juice and garlic salt. Warm up the wraps for about 30 seconds per side on the stove in a pan.

On one of the wraps spread 2 tablespoons of hummus on the inside. Then add in half of the lettuce, cucumber and tomatoes.

Top with half of the lentils and green onions. Repeat steps 4-6 for the other wrap - enjoy!
Review Lemony Lentil Wraps by @plantifullybased
Your email address will not be published. We will use your instagram URL to get your profile pic. All fields except instagram username are required.