Free Shipping on Continental U.S. Orders over $45
Lentil Stew by Francesca of @plantifullybased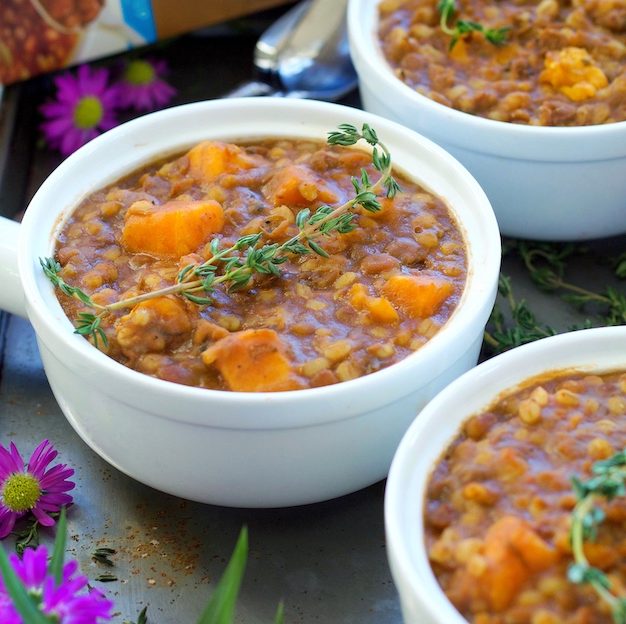 Lentil Stew by Francesca of @plantifullybased
Description
By using our low-sodium vegan soup, this recipe is so simple, yet so delicious. French lentil soup is incredibly hearty and certainly satisfies all year round!
Ingredients
1 sweet potato
1/2 cup barley
3-4 sprigs fresh thyme
Salt and pepper to taste
1/4 cup water optional to make it a little less thick
2 packages Organic French Lentil Gluten Free Lower Sodium Soup
This Recipe Includes Right Foods Organic French Lentil Gluten Free Lower Sodium Soup
Instructions
Prepare barley by bringing 1 1/4 cup of water to a boil. Rinse the barley. Once the water is boiling add it in and cook for 15-20 minutes.

While the barley cooks peel and chop the sweet potato into small cubes. To make the sweet potato easier to cut and cook a bit quicker microwave for 2 minutes. Just be careful as it will be warm when you cut it.

Add the two packages of Right Foods French Lentil Soup, sweet potato and the leaves from the sprigs of thyme into a big pot.

Bring to a boil and cook for 5-10 minutes. Then reduce to a simmer.

The barley should be done cooking now and you can add it into the stew as well.

Let this cook for about 20-25 more minutes on a simmer. The barley and potatoes should be tender. If you prefer it to be a bit thinner you can add the water in it.

Garnish with a sprig of fresh thyme and enjoy.
Review Lentil Stew by Francesca of @plantifullybased
Your email address will not be published. We will use your instagram URL to get your profile pic. All fields except instagram username are required.