Free Shipping on Continental U.S. Orders over $45
Miso Oats with Charred Snap Peas by Sarah Schutz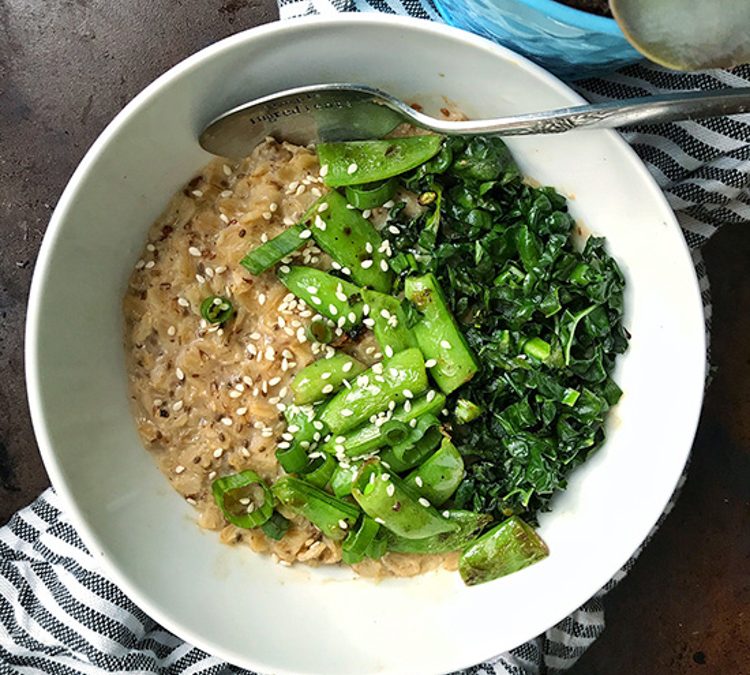 Miso Oats with Charred Snap Peas by Sarah Schutz
Description
When I was a kid, I would bring on all of the sugar into my breakfasts. Seriously, the more brown sugar that was in my oatmeal, the better! Lately, I have been into eating savory things for breakfast. There is nothing like a warm tofu scramble or toast with hummus to bring some stability into my otherwise chaotic day. Contrary to Oprah, there is only so much bread a person can eat. I have been experimenting about how to incorporate a low sugar, whole grain breakfast into my diet that is a little different than my usual toast. Savory oatmeal has been my answer to my prayers. We are talking about creamy dreamy oats with a little miso paste mixed in. It is the perfect, plant based, blank canvas for adding all kind of fun, seasonal toppings. Lately, I've been loving charred snap peas, tossed with a little sesame oil, soy sauce, and mint. They add the perfect amount of sweetness that will make you just say um YUM!
Ingredients
1 packet Right Foods Mega Omega Superfood Oats
1/2 tablespoon coconut oil (optional)
1/3 cup whole sugar snap peas washes, tops cut off, and sliced in half
1/3 cup whole sugar snap peas washes, tops cut off, and sliced in half
1/3 cup whole sugar snap peas washes, tops cut off, and sliced in half
1-2 mint leaves
1/2 cup vegetable broth
1 tablespoon miso paste
1 green onion, sliced
1-3 leaves of kale finely, chopped
sesame seeds (to garnish)
Sriracha sauce (to garnish)
Instructions
In a cast iron skillet, heat coconut oil over medium heat.

Add snap peas and toss to coat in oil. Cook until the snap peas are charred in some spots, approximately 4-5 minutes.

Add soy sauce and sesame oil. Cook for an additional 1 minute.

Put off of the heat, toss with chopped mint, and set aside.

Heat vegetable broth in small pot over medium heat until bubbling. Add oats and stir to combine. Bring broth to a boil, then down to a simmer. Cook according to package directions, or until almost all of the liquid is dissolved.

Stir in miso paste.

Add oats to a bowl. Top with charred snap peas. Garnish with green onion, kale, and sesame seeds.

EAT!
Review Miso Oats with Charred Snap Peas by Sarah Schutz
Your email address will not be published. We will use your instagram URL to get your profile pic. All fields except instagram username are required.