Free Shipping on Continental U.S. Orders over $45
Overnight Apple Cinnamon Oatmeal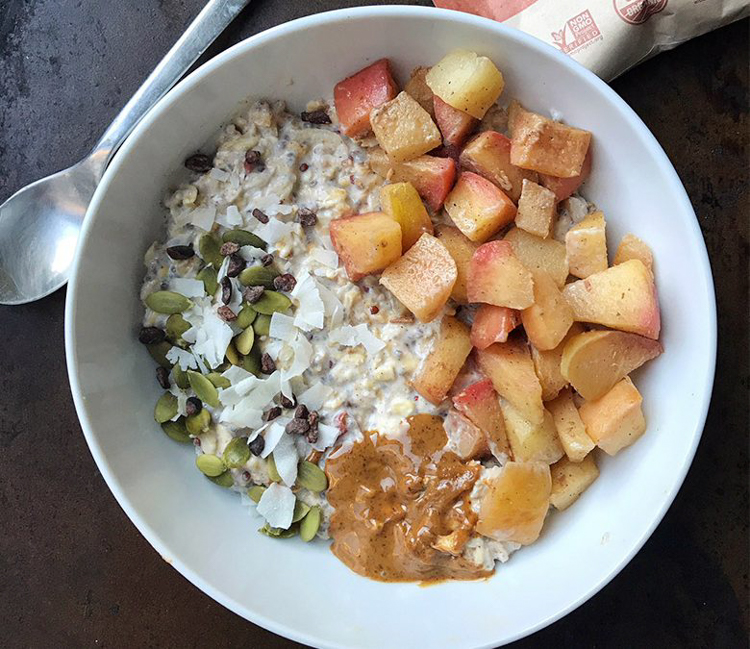 Overnight Apple Cinnamon Oatmeal
Description
Easily prep your breakfast the night before with this simple overnight apple cinnamon oatmeal bowl! Just heat it up in the morning for a healthy and great start to your day!
Ingredients
1 package Right Foods Chia Crunch Oats
1/2 cup Plant-based milk
1/2 grated apple
1/2 tsp cinnamon
pinch cloves
1 scoop plant based protein powder (optional) or a spoonful of plant based yogurt
(topping) 1/2 chopped apple
(topping) cinnamon
(topping) pumpkin seeds
(topping) 1 tsp nut butter
(topping) cacao nibs
Instructions
Combine 1 package of right Foods Chia Crunch Oats, 1/2 of the grated apple, cinnamon, pinch cloves, and optional plant based protein powder or yogurt in a small jar. Leave in the fridge overnight.

In the morning, heat mixture on the stove on medium to low heat until warmed through and the oats are cooked.

Top with the other half of the chopped apple, cinnamon, pumpkin seeds, nut butter, and cacao nibs. Enjoy!!
Review Overnight Apple Cinnamon Oatmeal
Your email address will not be published. We will use your instagram URL to get your profile pic. All fields except instagram username are required.