Free Shipping on Continental U.S. Orders over $45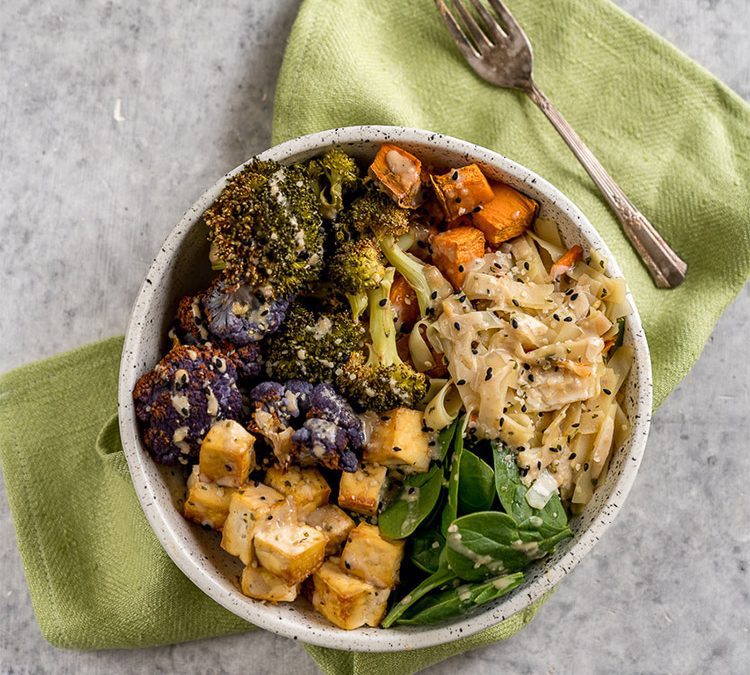 Pad Thai Buddha Bowl
Description
Ingredients
1 cup Dr. McDougall's Pad Thai Asian Noodle Cup
1/2 block extra firm tofu
1/2 head broccoli
1/2 head cauliflower
1/2 sweet potato diced
2 cups spinach
(Ginger Miso Dressing) 1/3 cup seasoned rice vinegar
(Ginger Miso Dressing) 1/3 cup seasoned rice vinegar
(Ginger Miso Dressing) 1 tbsp agave
(Ginger Miso Dressing) 1 tbsp miso
(Ginger Miso Dressing) 1 tbsp miso
(Ginger Miso Dressing) 1 tsp garlic powder
(Ginger Miso Dressing) 1/4" piece ginger
(Ginger Miso Dressing) black pepper if desired
(Toppings) hemp hearts
(Toppings) sesame seeds
This Recipe Includes Right Foods Asian Noodles Pad Thai (Gluten Free)
Instructions
Press the tofu for about 1 hour. For a quicker pressing, cut the tofu into 4 piece lengthwise and then press all of those pieces side by side (not stacked).

In the meantime, prepare the Pad Thai according to the packaging instructions. When ready, drain out all of the liquid into a small bowl. Set aside.

Preheat oven to 350F and line a large rimmed baking sheet with parchment paper or a silicone baking mat. Once the tofu is pressed, cut into cubes and toss it into the liquid that you drained from the soup. Allow to marinate for 10-15 minutes, mixing it carefully halfway through.

On a timed baking dish, add the sweet potatoes, broccoli, cauliflower and marinated tofu. Pour any remaining marinade/broth evenly over all of the vegetables. Place into the oven for 30-35 minutes.

In the meantime, prepare the miso dressing by simply whisking everything together until smooth. Once the vegetables and tofu are done roasting, remove them from the oven to cool slightly.

To assemble, divide the spinach, veggies, tofu and Pad Thai into two bowls. Top with the ginger miso dressing, sesame seeds and hemp hearts. Enjoy!
Review Pad Thai Buddha Bowl
Your email address will not be published. We will use your instagram URL to get your profile pic. All fields except instagram username are required.