Free Shipping on Continental U.S. Orders over $45
Potato Black Bean Soup by @plantifullybased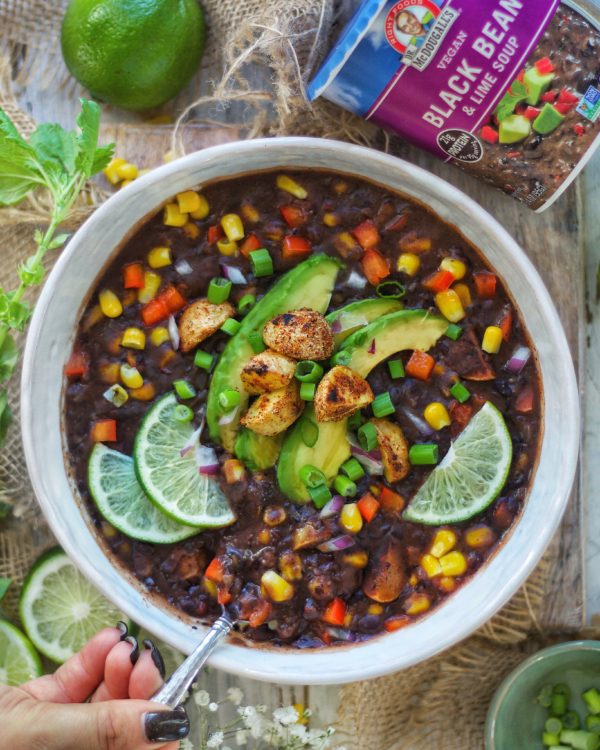 Potato Black Bean Soup by @plantifullybased
Description
Here's to soup season! Nothing tops a warmed bowl of goodness, and we are in love with @plantifullybased's amazing potato black bean soup. This bad boy is packed with a ton of flavor, texture and comfort.
Ingredients
1 unit Dr. McDougall's Lower Sodium Black Bean & Rice Cup
2/3 cup frozen corn
4-5 golden baby potatoes
1/2 cup bell pepper, chopped
1/5 cup red onion, chopped
avocado
1 tsp chili powder
1 tsp garlic powder
1 tsp onion powder
1/2 tsp salt
lime
green onion
Instructions
Preheat oven to 425F (218C).

Cut the potatoes into quarters. Add the chili powder, garlic powder, onion powder and salt to them. Toss to coat. Place on a baking sheet lined with parchment paper and bake for 20-25 minutes until crispy and cooked.

On the stove add a pot and a few tablespoons of water.

Add in the chopped red onion, red pepper and corn. Cook for 3-5 minutes.

Once the vegetables are softened add in the flavor packet of the soup and cook for 1-2 minutes to develop flavors.

Then add in the soup container content. Fill soup cup to fill line and add to pot.

Cook for 10 minutes on low until soup has thickened and beans are soft.

Once potatoes are done add to the soup. Add cayenne pepper if you like the soup spicy.

On top at the avocado, green onion and some lime juice.
Review Potato Black Bean Soup by @plantifullybased
Your email address will not be published. We will use your instagram URL to get your profile pic. All fields except instagram username are required.