Free Shipping on Continental U.S. Orders over $45
Quinoa Stuffed Bell Peppers with Turmeric Tahini Sauce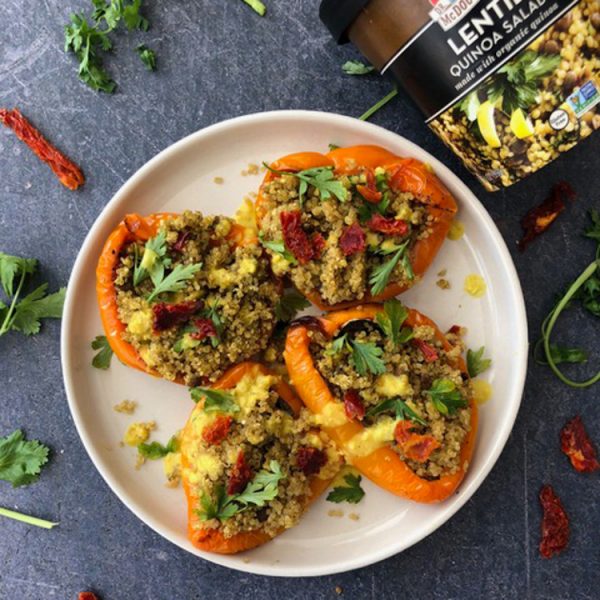 Quinoa Stuffed Bell Peppers with Turmeric Tahini Sauce
Description
Make your quinoa salads less boring and more fancy by baking them in bell peppers! Sarah of @thecuttingveg shows us how to cook quick, easy recipes for a busy work week using our lentil quinoa salad.
Ingredients
(Turmeric Tahini Sauce) 1/4 cup olive oil
(Turmeric Tahini Sauce) 2 tbsp tahini
(Turmeric Tahini Sauce) 1 lemon, juiced
(Turmeric Tahini Sauce) 2 cloves garlic, minced
(Turmeric Tahini Sauce) 2 tbsp water
(Turmeric Tahini Sauce) 1.5 tsp dried turmeric
(Turmeric Tahini Sauce) 1/4 tsp salt
1 unit Dr. McDougall's Lentil Quinoa Salad Cup
3 tbsp sun-dried tomatoes, patted dry
2 bell peppers halved and seeds scooped out
avocado or olive oil
parsley, chopped
Instructions
Preheat oven to 375 degrees F and lightly grease a 9x13 baking dish.

Brush peppers with avocado or olive oil.

Cook lentil quinoa salad according to the package directions. Stir in sun-dried tomatoes.

Generously stuff peppers with quinoa salad, add peppers to the dish, and cover dish with foil.

Bake for 30 minutes covered, then increase heat to 400 degrees.

Remove foil and bake for 15-20 minutes more.

While the peppers are baking, make the turmeric tahini sauce, whisk together ingredients until incorporated. Set aside.

Serve peppers with chopped parsley and turmeric tahini sauce. Enjoy!
Review Quinoa Stuffed Bell Peppers with Turmeric Tahini Sauce
Your email address will not be published. We will use your instagram URL to get your profile pic. All fields except instagram username are required.