Free Shipping on Continental U.S. Orders over $45
Rainbow Vegetable Pad Thai by Francesca of @plantifullybased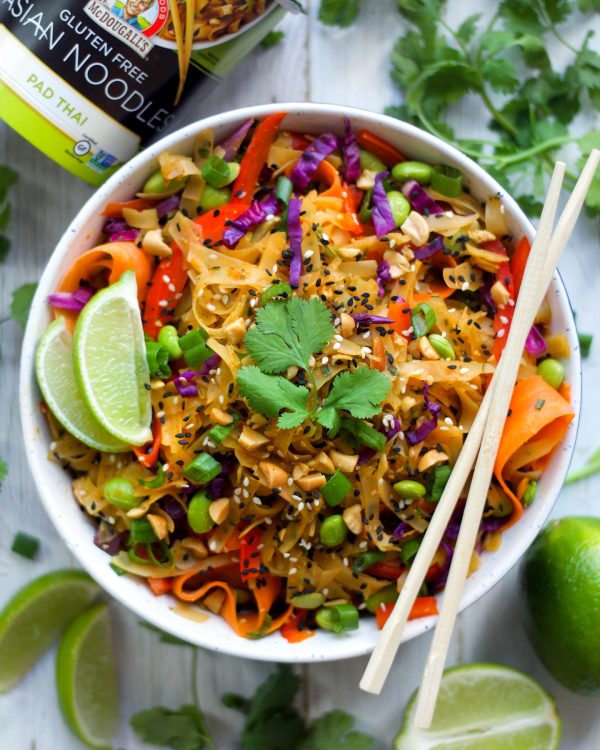 Rainbow Vegetable Pad Thai by Francesca of @plantifullybased
Description
A beautiful, delicious, and nutritious way to jazz up your pad thai! Francesca added a bunch of colorful vegetables and some peanuts to our pad thai to add some extra texture and nutrients!
Ingredients
2 units Right Foods Pad Thai
1 bell pepper, julienned
1/4 cup red cabbage, shredded
2 carrots, shredded or made into ribbons using a vegetable peeler
1 cup edamame
5-6 stalks green onions chopped
6-8 peanuts crushed for garnish
cilantro for garnish
sesame seeds for garnish
1/2 limePrepare the pad thai by following the directions on carton.
This Recipe Includes Right Foods Pad Thai Noodle Gluten Free Soup Big Cup
Instructions
Prepare the pad thai by following the directions on carton.

Saute the peppers, red cabbage, carrots and edamame in 2-3 tbsp of water for only 3-4 minutes. You want them to be slightly softened but still have their bright color and crunch. If using frozen edamame you may want to cook them separetely or microwave.

Once all the vegetables are cooked if there is any water left drain it out of the pan.

Add the prepared pad thai noodles to the pan along with the green onion and toss together. Squeeze the lime overtop.

Once well mixed add to a big bowl and garnish with more green onion, peanuts, sesame seeds and cilantro.
Review Rainbow Vegetable Pad Thai by Francesca of @plantifullybased
Your email address will not be published. We will use your instagram URL to get your profile pic. All fields except instagram username are required.