Free Shipping on Continental U.S. Orders over $45
Ramen Scallion Pancakes by @plantifullybased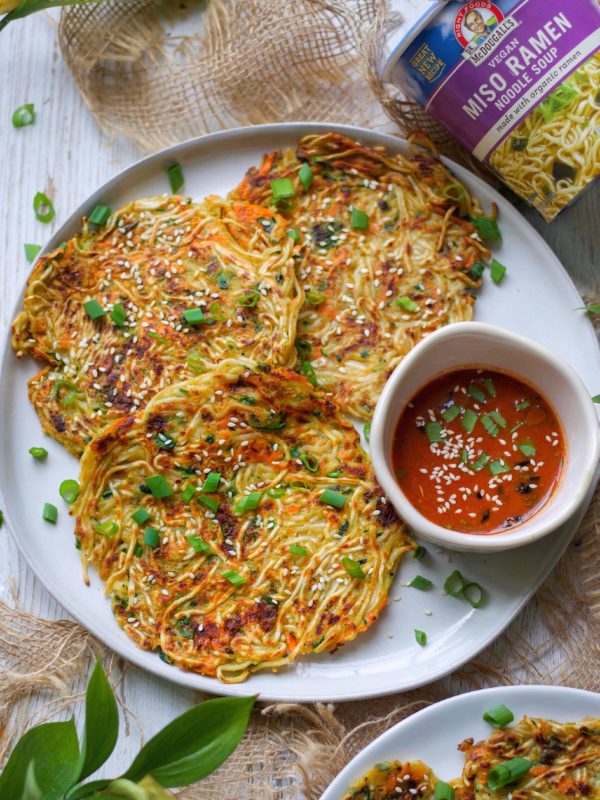 Ramen Scallion Pancakes by @plantifullybased
Description
Ramen pancakes ?? @plantifullybased has outdone herself this time! She made an iconic twist on our miso ramen with this insanely amazing recipe!
Ingredients
2 units Dr. McDougall's Miso Ramen Soup

shredded carrot

shredded zucchini

vegan egg replacer

1/4 cup flour

green onions

(sauce) 1/2 seasoning packet

(sauce) 1-2 tbsp water

(sauce) 1-2 tsp gochujang or sriracha

(sauce) 1 1/2 tbsp maple syrup
This Recipe Includes Right Foods Miso Soup with Organic Ramen Noodles Big Cup
Instructions
Cover noodles with hot water to fill line. Set aside for 7 minutes to soften.

In a large bowl mix the flour and half of one seasoning packet. You only need 1 seasoning packet you can save the other one.

Once ramen is soft drain from the water. Add all ingredients into the bowl and mix until well incorporated.

Scoop 1/3 cup of batter into a non-stick fry pan. **optional lightly spray it with non-stick cooking spray before panfrying. Use a rubber spatula to spread the batter out into a circle. Cook 3 to 5 minutes per side over medium low heat. Repeat until all are made.

Prepare the sauce by mixing together all the ingredients in a small bowl until seasoning packet has been dissolved. Add water until you have reached desired consistency.

Cut the circle into 4 triangles, serve warm. Top with sesame seeds and green onion. Enjoy!
Review Ramen Scallion Pancakes by @plantifullybased
Your emaill address will not be published. We will use your instagram URL to get your profile pic. All fields except instagram username are required.