Free Shipping on Continental U.S. Orders over $45
Roasted Chickpea Lentil Quinoa Salad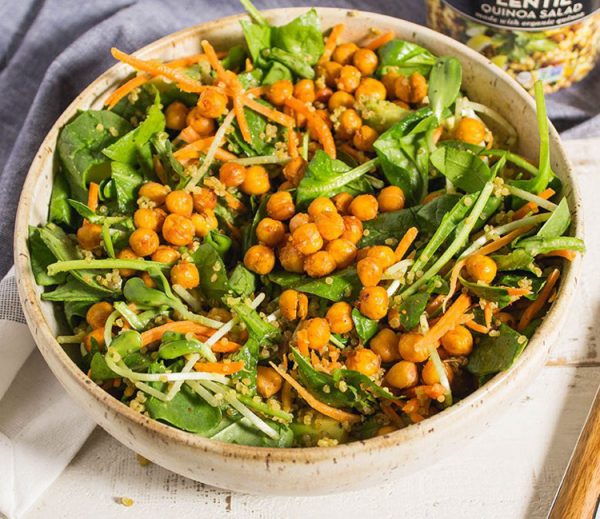 Roasted Chickpea Lentil Quinoa Salad
Description
Who doesn't love a quick and easy to make lentil quinoa salad? Just toss it in a bowl to combine! It's simply delicious!
Ingredients
1 Dr. McDougall's Lentil Quinoa Salad Cup
1/2 cup carrot, shredded
2 cups spinach
1/2 cup chickpeas
1/2 avocado, cubed
Instructions
Cook Lentil Quinoa Salad according to package instructions.

Preheat the oven to 400°F. Drain the can of chickpeas and pat it dry with a tea towel or paper towel for optimal crispiness.

Season chickpeas with your favorite spices! We used salt, cayenne pepper, smoked paprika and black pepper. Make sure to evenly coat the spices.

Bake chickpeas for 30-40 minutes depending on your preference for how crispy you want the beans to be.

Grab your carrot and a grater and begin shredding. Set aside. Next, slice your avocado lengthwise. With the cut side up, slice the avocado in both directions to the desired cubed shape, being careful not to cut through the skin. Then, invert the avocado and peel off the skin and set cubed avocado aside.

Lastly, once everything is cooked, grab your favorite bowl and add in the spinach, carrots, avocado, roasted chickpeas and lentil quinoa salad. Toss to combine and enjoy!
Review Roasted Chickpea Lentil Quinoa Salad
Your email address will not be published. We will use your instagram URL to get your profile pic. All fields except instagram username are required.