Free Shipping on Continental U.S. Orders over $45
Spicy Black Bean Enchilada by Francesca of @plantifullybased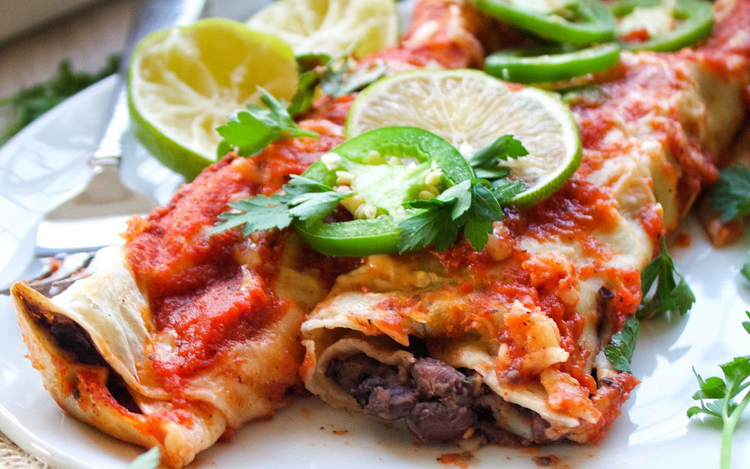 Spicy Black Bean Enchilada by Francesca of @plantifullybased
Description
Who wants an enchilada?! These spicy black bean enchiladas from Francesca are sure to warm you up! Made using our black bean and lime soup, they are ready in less than a half hour, packed with plant protein and are healthy yet incredibly satisfying.
Ingredients
2 packages Right Foods Black Bean and Lime Soup
1 15 oz. can black beans
2 1/4 cup water
1/8 tsp cayenne (optional)
1/3 lime for juice
1 16 oz. can fire roasted tomatoes
1 8oz. can tomato sauce
1/4 tsp salt, pepper, garlic powder, cumin
1/2 tsp chili powder
1/2 tsp sugar
7 medium size tortillas flour or corn
1 jalapeño, chopped
3-5 sprigs of cilantro
1 lime
1/4 cup cup vegan cheese shreds (optional)
This Recipe Includes Right Foods Black Bean & Lime Gluten Free Soup Big Cup
Instructions
Preheat oven to 400F.

Drain and rinse black beans.

In a pot add the black beans, 2 black bean soups, water, cayenne pepper and lime juice. Cook on a medium low heat for 7-8 minutes. The beans should be soft and it will be the consistency of a very thick soup.

Prepare the red sauce by adding the ingredients into a blender and blend until smooth.

In a big pan add a few tablespoons of the red sauce to the bottom, so the enchiladas don't stick.

Assemble the enchiladas by adding 2-3 tablespoons of filling into the tortilla and roll them up. Place them seam side down into a pan.

Repeat until the filling is all used.

Pour more of the red sauce on top. They should be mostly covered. You will have leftover sauce, use that for eating after it is done baking.

If you want sprinkle vegan cheese on top and bake for 20-22 minutes. The tortillas should be crispy on top and the sauce bubbling.

Garnish with jalapeño, limes and cilantro.
Review Spicy Black Bean Enchilada by Francesca of @plantifullybased
Your email address will not be published. We will use your instagram URL to get your profile pic. All fields except instagram username are required.