Free Shipping on Continental U.S. Orders over $45
Spicy Kung Pao Spring Rolls by Francesca Bonadonna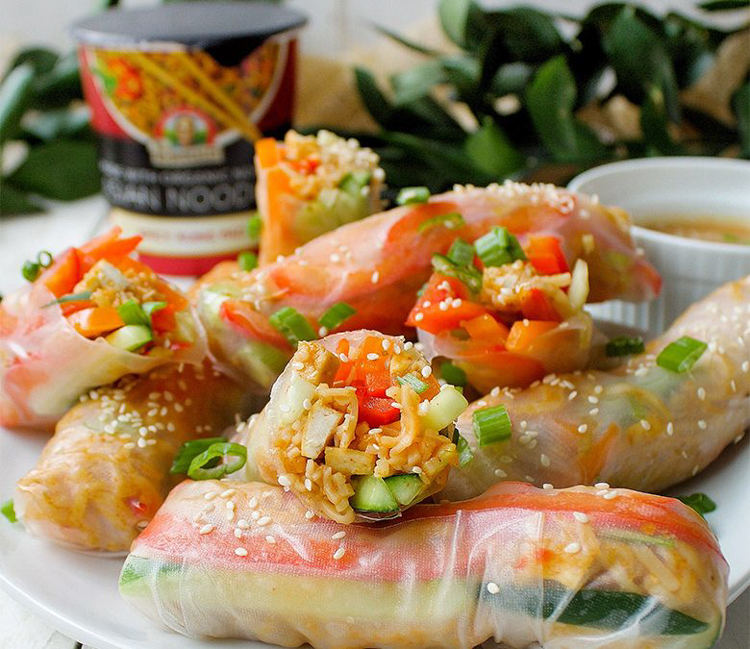 Spicy Kung Pao Spring Rolls by Francesca Bonadonna
Description
Have you ever tasted such a fresh, vibrant spring roll packed full of flavor, the right amount of spice and crunch? Try out this genius recipe idea by Francesca of @plantifullybased to wrap up your summer days!
Ingredients
2 units Dr. McDougall's Spicy Kung Pao
1 bell pepper, thinly sliced
1/2 cucumber, thinly sliced
1-2 green onions, chopped
1/4 block extra firm tofu cubed
7 rice paper wrappers
Sauce: 1 1/4 tbsp peanut butter
Sauce: 1/2 tbsp maple syrup
Sauce: 1/4 cup water
Sauce: 1/4 cup cayenne (optional)
This Recipe Includes Right Foods Asian Noodles Spicy Kung Pao Soup Cup
Instructions
Prepare the packages of noodles according to the directions.

Cut tofu into small cubes and pan-fry until golden brown.

Once the noodles are cooked, add it into the pan with the tofu and mix. Allow noodles to cool down before making roles.

Take a shallow dish and fill with water. Take a rice paper wrapper, place it in the water for 10-15 seconds until it becomes soft.

Place down on counter, add a scoop of the noodles, a few pieces of each vegetable and some green onion in the middle in a horizontal log shape.

Fold the 2 sides in and then the bottom up and begin to roll. Repeat until all ingredients are used.

Prep sauce by mixing all ingredients together in a bowl. Garnish with sesame seeds and extra green onions.

Enjoy!
Review Spicy Kung Pao Spring Rolls by Francesca Bonadonna
Your email address will not be published. We will use your instagram URL to get your profile pic. All fields except instagram username are required.