Free Shipping on Continental U.S. Orders over $45
Back to the Full Recipe Page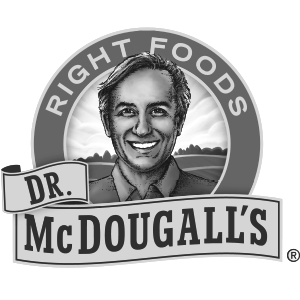 Summer Roll Bowl
Description
We're feeling all the warm vibes and wanted to keep things cool with this summer roll bowl featuring our sesame chicken rice noodles. We kicked up the creativity with some cucumber rolls, mango and a mouth-watering peanut sauce! Soak up the sun all summer long with this recipe in hand.
Ingredients
(Peanut Sauce) 1 tbsp peanut butter

(Peanut Sauce) 1/4 cup soy sauce

(Peanut Sauce) 1 tbsp red wine vinegar

(Peanut Sauce) 1 tsp agave

(Peanut Sauce) 1 tbsp sriracha

(Peanut Sauce) lemon juice

(Peanut Sauce) red pepper flakes

1 unit Dr. McDougall's Sesame Chicken

1 cup shredded carrot

1 cup shredded romaine

1/4 cup edamame

1/4 cup mango, cubed

cucumber
This Recipe Calls For Right Foods Sesame Chicken Rice Noodle Soup, Which you can Purchase on
https://rightfoods.com
Instructions
In small bowl, whisk ingredients for peanut sauce. Add water to thin if desired, and set aside

In large bowl, place veggies and fruits however you desire! Keep a similar ratio for all ingredients. Take cucumber and slice into long thin strips, roll and add to bowl.

Prepare Sesame Chicken Rice Noodles according to package instructions without flavor packet. Add hot noodles to middle of bowl and drizzle peanut sauce.

Enjoy!