Free Shipping on Continental U.S. Orders over $45
Sweet and Spicy Ramen Bowl by @plantifullybased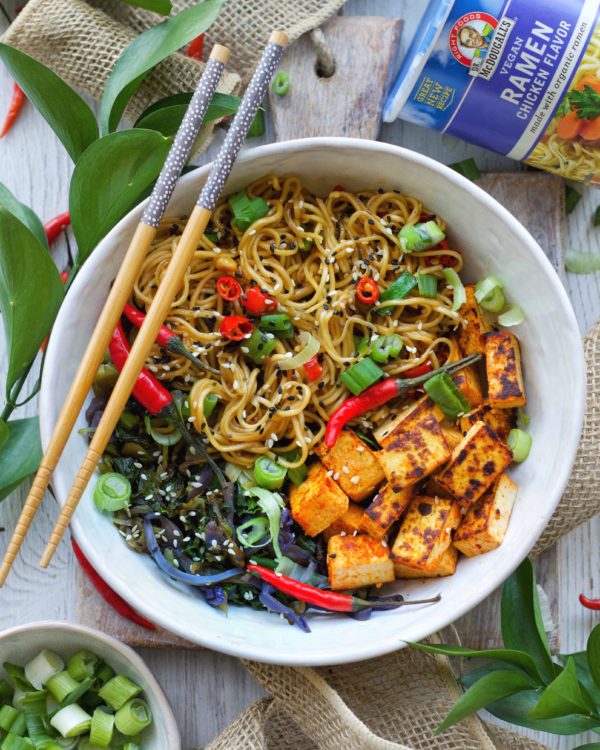 Sweet and Spicy Ramen Bowl by @plantifullybased
Description
Sweet and spice and everything nice - @plantifullybased turned our vegan chicken ramen into a new recipe classic with some amazing ingredients like tofu, garlic, chilies and green onion and sesame seeds.
Ingredients
1 unit Right Foods vegan chicken ramen

1/4 tsp minced garlic

1 tbsp low sodium soy sauce

1 tsp sesame oil

1 tbsp maple syrup

4 cups cabbage blend

4 oz tofu

green onion

sesame seeds

whole chiles
This Recipe Includes Right Foods Vegan Chicken Soup with Organic Ramen Noodles Big Cup
Instructions
Remove seasoning packet from container. Fill it with 1/2 cup of boiling water. Cover with a plate and let it sit for 10 minutes. Flip the noodles after 5 minutes so they are softening evenly.

Prepare the sauce for the noodles by mixing together the garlic, chilies, soy sauce, sesame oil and maple syrup together.

Add the cabbage blend to a frypan with 1/4 of water and 1 tbsp of the seasoning packet. Steam for 5-10 minutes until cabbage has softened.

Prepare tofu by pan frying and add a sauce you like. A baked sriracha tofu is used here.

Once noodle are soft add the sauce and noodles to a pan and stir-fry for 3-5 minutes on medium heat until sauce has been absorbed.

Add everything into a bowl and garnish with the green onion, sesame seeds and chilies.
Review Sweet and Spicy Ramen Bowl by @plantifullybased
Your emaill address will not be published. We will use your instagram URL to get your profile pic. All fields except instagram username are required.