Free Shipping on Continental U.S. Orders over $45
Sweet Potato Black Bean Bowl @plantifullybased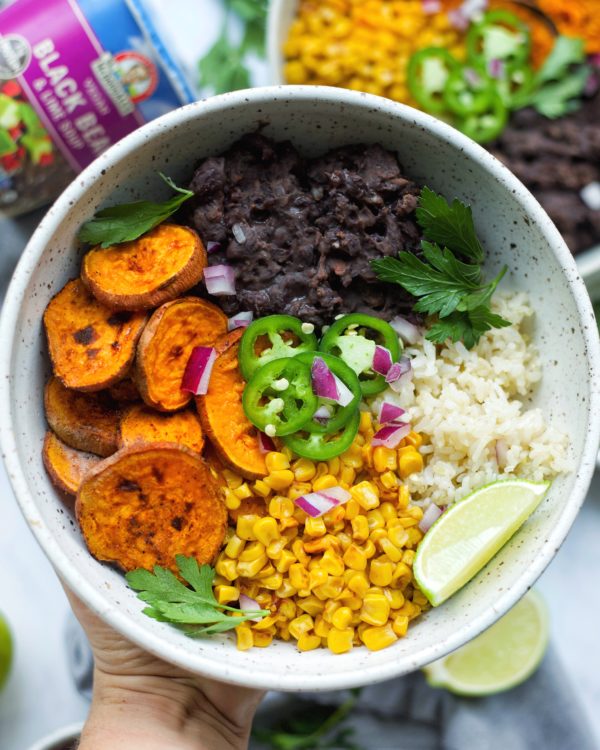 Sweet Potato Black Bean Bowl @plantifullybased
Description
Feel free to drool over @plantifullybased's sweet potato black bean bowl, made using our black bean & lime soup and tons of crisp veggies!
Ingredients
1 unit Dr. McDougall's Black Bean and Lime Soup Cup
1 sweet potato
1 tbsp maple syrup
1 tsp chili powder
1/4 tsp salt
1 cup corn niblets
1 cup black beans
1/2 cup water
1/2 cup water
1 jalapeño
1/8 cup chopped red onion
lime
parsley or cilantro
This Recipe Includes Right Foods Black Bean & Lime Gluten Free Soup Big Cup
Instructions
Preheat oven to 450F.

In a bowl place the sliced sweet potatoes and top with the maple syrup, chili powder, and salt. Toss to coat. Place on a baking sheet lined with paper and bake for 25 minutes, flip and then bake for 5 more minutes.

Meanwhile, pour the contents of the Right Foods black bean and lime soup in a medium pot along with the black beans, seasoning packet and water.Mix together and cook over low heat for 5 to 7 minutes until softened. Add more water if necessary if it is drying out too much.

Add the corn into a medium nonstick frypan and cook over low heat until slightly browned and golden, about 5 minutes.

To assemble the bowls divide the ingredients equally amongst two bowls and garnish with the jalapeño, red onion, lime, and parsley/cilantro. Enjoy!
Review Sweet Potato Black Bean Bowl @plantifullybased
Your email address will not be published. We will use your instagram URL to get your profile pic. All fields except instagram username are required.