Free Shipping on Continental U.S. Orders over $45
Sweet Potato Kale Falafel Bowl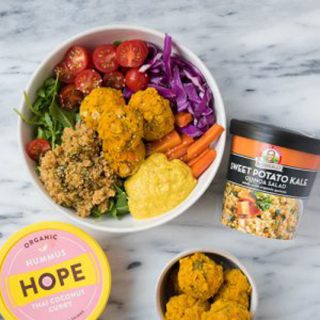 Sweet Potato Kale Falafel Bowl
Description
We love this easy quinoa falafel bowl with our Sweet Potato Kale Quinoa Salad Cup and Carolyn's Pantry's 10-Ingredient Sweet Potato Falafel. http://carolynspantry.com/10-ingredient-sweet-potato-falafel/
Ingredients
Bowl Ingredients: 2 cups Sweet Potato Kale Quinoa Salad Cup
Bowl Ingredients: 1 bag fresh arugula
Bowl Ingredients: 1 handful baby tomatoes sliced
Bowl Ingredients: 1/4 head fresh purple cabbage sliced
Bowl Ingredients: 4 large dollups your favorite hummus
Bowl Ingredients: 4 carrots pelled and sliced
Bowl Ingredients: white sesame seeds (optional topping)
Carolyn's Pantry Sweet Potato Falafel Ingredients:
1 medium sweet potato
2 15 oz cans chickpeas drained
1 handful fresh cilantro
juice of 2 lemons
2 garlic gloves, chopped
1 tablespoon cumin, ground
1 tablespoon turmeric, ground
1 teaspoon smoked paprika
dash of salt
Instructions
Preheat your oven to 375F.

Start by roughly chopping and steaming the sweet potato (skin on or off – whatever you prefer) until you can stick a fork through 1 piece. Next, Put the sweet potato in a food processor and blend until the large chunks are gone.

Add the rest of your ingredients into the food processor and try to scoop the blended sweet potato from the bottom of the processor and put them on top of the other ingredients. You just want the blades to be able to access them. Blend until most of the chunks are gone and the cilantro leaves are cut up, but be sure to stop before you have a hummus consistency! Depending on the food processor you're using, you might have to stop the machine and stir the ingredients around to be sure that everything is getting blended.

Get ready to make some falafel! Grab a baking sheet and line it with parchment paper, Use a large spoon or – better yet – an ice cream scooper and grab enough dough to make falafel balls that are about an inch in diameter. Place the balls at least 1 inch apart on the baking sheet and bake in the oven for 20-25 minutes. Cool and serve! This makes about 18-24 falafels. Keep them in an airtight container in the fridge for up to a week. They go with everything!

Bowl Instructions: To make your bowl, simply cook the quinoa cups according to package instructions and add equal parts of the quinoa, falafel, hummus and veggies to each bowl. Top with sesame seeds for some extra fun and enjoy!
Review Sweet Potato Kale Falafel Bowl
Your email address will not be published. We will use your instagram URL to get your profile pic. All fields except instagram username are required.