Free Shipping on Continental U.S. Orders over $45
Sweet Potato Quinoa Taquitos by Francesca Bonadonna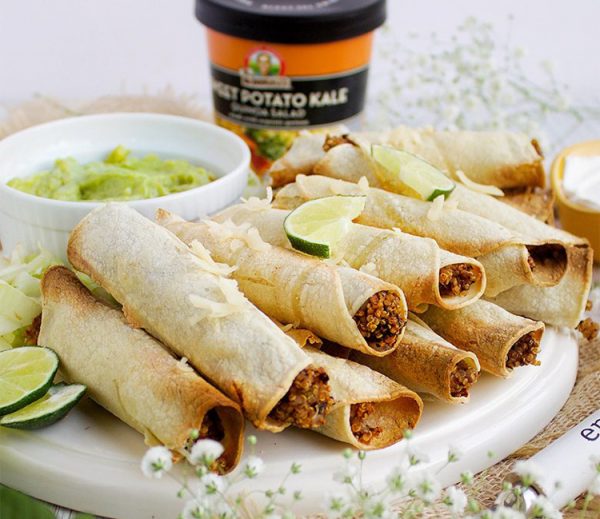 Sweet Potato Quinoa Taquitos by Francesca Bonadonna
Description
Have you ever seen a more beautiful taquito? This recipe created by Francesca (@plantifullybased) not only caught our eye but our taste buds! The hearty beans and flavorful quinoa wrapped up in a crispy corn tortilla...are you dreaming of this yet? Because we are and we can't wait to dig in!
Ingredients
2 units Dr. McDougall's Right Sweet Potato & Kale Quinoa Salad Cup
3/4 cup refried beans
1 tsp chili powder
2 oz vegan cheese (optional)
15 corn tortillas
Instructions
Preheat oven to 400F

Make the 2 units of Right Foods Sweet Potato Quinoa Kale Salad according to package instructions.

In a bowl, combine quinoa, refried beans, chili powder and vegan cheese. Mix

Take 1 tortilla and fill it with 1 big spoonful of mixture. Place it to 1 side of the tortilla and form it into a log shape to match the length of the tortilla.

Roll it up in place on a baking sheet lined with parchment paper. If tortilla unrolls, use a toothpick in the middle. Repeat for the other 14 taquitos.

Line up rolled taquitos in baking pan. It's okay if they are touching.

Bake for 25-30 minutes or until they are golden and crispy.

Serve with homemade guacamole, hot sauce, or salsa. Enjoy!
Review Sweet Potato Quinoa Taquitos by Francesca Bonadonna
Your email address will not be published. We will use your instagram URL to get your profile pic. All fields except instagram username are required.