Free Shipping on Continental U.S. Orders over $45
Sweet & Savory Quinoa Bowl by Lenny Wu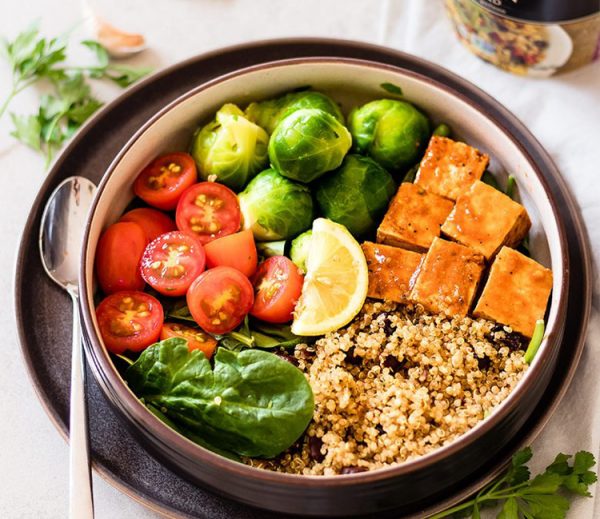 Sweet & Savory Quinoa Bowl by Lenny Wu
Description
Enjoy this light dish made using our black bean quinoa salad and topped off with a few simple and delicious toppings! Simply marinate some tofu in a sweet & savory sauce, bake it and then add in your favorite veggies and you've got yourself a complete and flavorful meal!
Ingredients
1 unit Right Foods Black Bean Quinoa Salad
1 cup fresh leafy greens
1/4 cup grape tomatoes, halved
1/2 cup brussel sprouts, steamed
1/4 block extra firm tofu
lemon juice
salt & pepper to taste
(Tofu Marinade) 2 tbsp soy sauce
(Tofu Marinade) 1 tbsp Sriracha sauce
(Tofu Marinade) 1 tbsp rice wine vinegar
(Tofu Marinade) 1 tbsp maple syrup
(Tofu Marinade) 1 tsp red chili flakes
Instructions
In a shallow dish, whisk together all the sauce ingredients, Place the tofu cubes in the dish.

Cover the tofu well with the sauce and set aside for 10 minutes.

Preheat oven to 400°F and line a baking sheet with parchment paper. Place the tofu onto the sheet and bake for 15 minutes, flipping after the first 10 minutes.

Meanwhile, pour the remaining sauce into the cooked quinoa salad and toss well. Prepare the remaining veggies for assembly.

Once tofu is caramelized, remove from the heat and assemble your buddha bowl as desired. Enjoy!
Review Sweet & Savory Quinoa Bowl by Lenny Wu
Your email address will not be published. We will use your instagram URL to get your profile pic. All fields except instagram username are required.