Free Shipping on Continental U.S. Orders over $45
Tahini Chickpea Stew by @plantbasedrd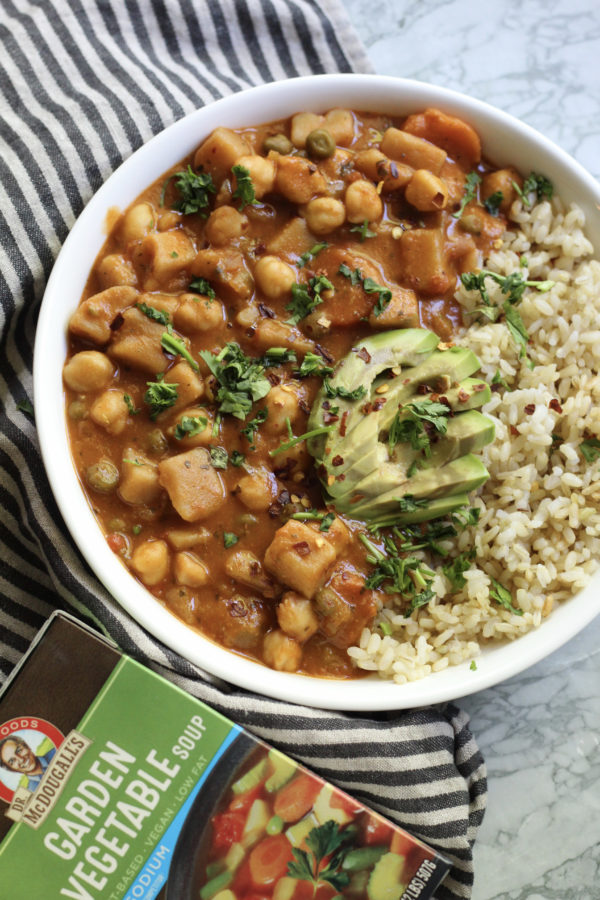 Tahini Chickpea Stew by @plantbasedrd
Description
A little kitchen hack for making a fast stew when you don't have a lot of time: use a garden vegetable soup as a main base and add some extra fixings to boost protein and creaminess! "I always love recommending these soups by @rightfoods to those needing plant-based food that is convenient and uncomplicated."
Ingredients
1 unit Dr. McDougall's Lower Sodium Garden Vegetable RTS Soup
1/2 cup chickpeas
1 tbsp nutritional yeast
1 tbsp tahini
1/2 tsp smoked paprika
1/2 tsp thyme
juice of half a lemon
This Recipe Includes Right Foods Garden Vegetable Lower Sodium Soup
Instructions
Add contents of vegetable soup into a saucepan along with chickpeas.

Bring soup to a simmer and then add in smoked paprika, thyme, nutritional yeast and tahini. Stir well and allow to simmer for 8-10 minutes or until soup has reduced down.

Add a squeeze of lemon to freshen up at the end.

Serve as desired!
Review Tahini Chickpea Stew by @plantbasedrd
Your email address will not be published. We will use your instagram URL to get your profile pic. All fields except instagram username are required.