Free Shipping on Continental U.S. Orders over $45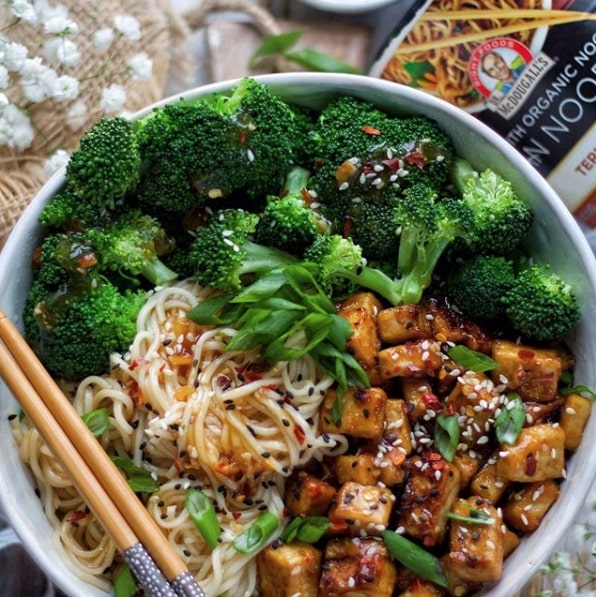 Teriyaki Tofu Bowl
Description
Green power machine! @plantifullybased dished up this amazing tofu teriyaki bowl featuring our teriyaki noodles
Ingredients
1 unit Dr. McDougall's Teriyaki Asian Noodle Cup
1 tsp sesame oil
4 oz extra firm tofu
2 tbsp cornstarch, divided
1 tbsp maple syrup
1/4 tsp red pepper flakes (optional)
1 tsp sesame seeds
3/4 cup water
1/2 cup broccoli
green onion
This Recipe Includes Right Foods Asian Noodles Teriyaki Soup Cup
Instructions
Add noodles to a boiling pot of water cook until soft.

Add seasoning packet into bowl along with 1 tbsp cornstarch, maple syrup, sesame seeds, red pepper flakes and water. Mix together. Place in a pot and bring to a boil to thicken.

In a large pan add the sesame oil. Cut tofu into cubes, place them int the pan. Add the cornstarch and mix to coat the tofu. Cook until golden and crispy.

Steam broccoli for 5 minutes. When ready coat the tofu in about 3/4 of the sauce and use the other 1/4 for the noodles.

Place everything in a bowl garnish with more red pepper flakes, green onion and a drizzle of extra sauce.

Enjoy!
Review Teriyaki Tofu Bowl
Your email address will not be published. We will use your instagram URL to get your profile pic. All fields except instagram username are required.