Free Shipping on Continental U.S. Orders over $45
Thai Green Curry Ramen by @plantifullybased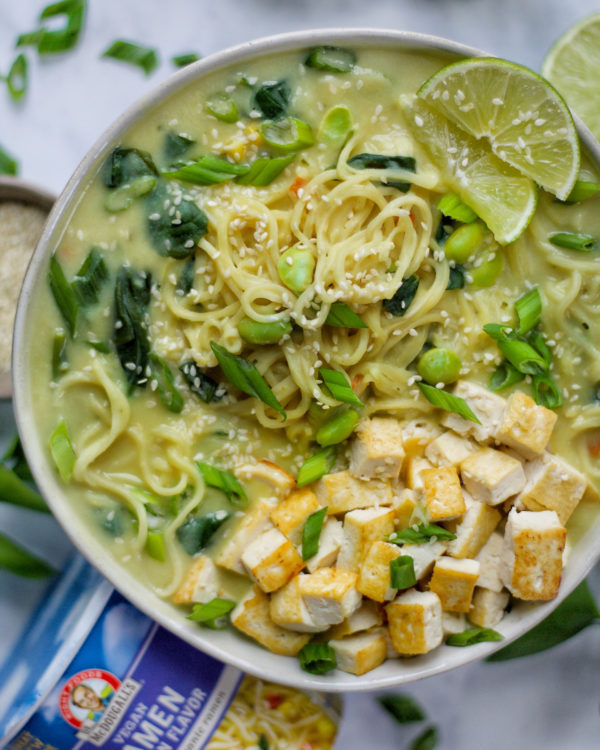 Thai Green Curry Ramen by @plantifullybased
Description
Thai green curry ramen for the win! @plantifullybased used our vegan chicken ramen to whip up this creamy dream meal.
Ingredients
1 unit Right Foods vegan chicken ramen
1/3 cauliflower
1/4 cup coconut milk
1 tbsp thai green curry paste
1 tbsp maple syrup
1/2 lime, juiced
1/2 block extra firm tofu
2 handfuls spinach
2/3 cup shelled edamame, frozen
green onion
sesame seeds
This Recipe Includes Right Foods Vegan Chicken Soup with Organic Ramen Noodles Big Cup
Instructions
Boil the cauliflower for 20 minutes until fork tender. Drain and rinse when cooked.

Into a blender add the cooked cauliflower, the seasoning packet from the ramen, coconut milk, Thai green curry paste and fill the ramen cup to the fill line with water. Pour the water into the blender. Blend all the ingredients together until smooth to form a creamy broth.

Add the broth into a pot log with the noodles and edamame. Cook until the ramen is soft about 5-7 minutes.

Cut the tofu into cubes. Cook it in a non-stick pan on low heat to get the sides golden.

While the soup cooks add in the lime juice and maple syrup. If you need to you can also add salt.

1-2 minutes before cooking is done add the spinach to wilt.

Place the soup into a bowl and garnish with green onion and sesame seeds.
Review Thai Green Curry Ramen by @plantifullybased
Your email address will not be published. We will use your instagram URL to get your profile pic. All fields except instagram username are required.