Free Shipping on Continental U.S. Orders over $45
Thai Peanut Noodles by Francesca of @plantifullybased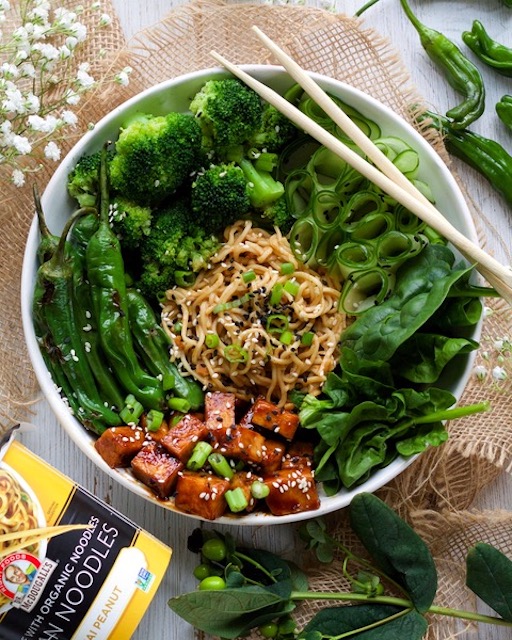 Thai Peanut Noodles by Francesca of @plantifullybased
Description
Try this recipe if you're ever in need of quick vegan food! Serve this is as a side dish or a main dish. This bowl made by Francesca from @plantifullybased is made with organic noodles and packed with flavor that will leave you wanting more. It gives you comfort from the peanut butter, a nice kick from the spices and it has a great portion of veggies!
Ingredients
1 cup Right Foods Thai Peanut Noodles
1 tsp peanut butter
pinch of cayenne (optional)
(Peanut Tofu) 4-6 oz extra firm tofu
(Peanut Tofu) 1 1/2 tbsp soy sauce
(Peanut Tofu) 2 tsp maple syrup
(Peanut Tofu) 1/2 tbsp peanut butter
(Peanut Tofu) 1 cup frozen or fresh broccoli florets
(Peanut Tofu) 5-7 shishito peppers
(Peanut Tofu) 1/2 cucumber
(Peanut Tofu) 1/2 cup spinach
Sesame seeds, for garnish
Green onion, for garnish
Instructions
Prepare the noodles by adding the peanut butter, flavoring packet and cayenne to the container.

Add the water to fill line and prepare from package directions.

Press the tofu and cut it into cubes.

Add the tofu in to a non-stick pan and cook on a low heat. Allow the sides to get browned up about 6-8 minutes.

Prepare the sauce for the tofu by adding soy sauce, maple syrup and peanut butter and mix together. It will be thick.

Add the sauce into the tofu and cook for another 2-3 minutes.

Toss to coat and the sauce will thicken.

Blister the peppers by adding them into a non-stick pan and cooking for several minutes on each side.

They will turn dark in spots.

Cut up cucumber, green onion and heat up or steam broccoli.

Add all the ingredients into a bowl and enjoy!
Review Thai Peanut Noodles by Francesca of @plantifullybased
Your email address will not be published. We will use your instagram URL to get your profile pic. All fields except instagram username are required.