Free Shipping on Continental U.S. Orders over $45
Vegan Black Bean Power Bowl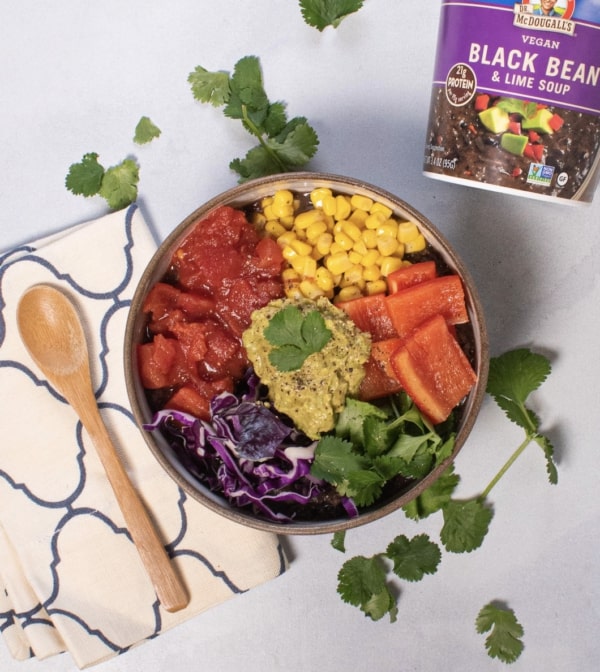 Vegan Black Bean Power Bowl
Description
We got that power! Pump up your day with this kickin' take on a burrito bowl, all vegan and all delicious! We used our black bean and lime soup as a killer filler and paired it with some of our favorite savory veggies and topped it with a creamy coconut avocado mix!
Ingredients
1 unit Dr. McDougall's Black Bean and Lime Soup Cup
1/3 cup corn, drained
red bell pepper, chopped
1/3 cup diced tomatoes
1/3 cup red cabbage
cilantro
salt
pepper
1 whole avocado
1/3 cup coconut milk
This Recipe Includes Right Foods Black Bean & Lime Gluten Free Soup Big Cup
Instructions
Prepare black bean and lime soup cup per package instructions, set aside

In mixing bowl, remove avocado shell and pit and mash. Add in coconut milk and mix together until desired consistency

In separate bowl, add in black bean and lime soup. Chop all veggies, and add to bowl along with coconut avocado mix

Garnish with cilantro, salt and pepper. Enjoy!
Review Vegan Black Bean Power Bowl
Your email address will not be published. We will use your instagram URL to get your profile pic. All fields except instagram username are required.