Free Shipping on Continental U.S. Orders over $45
Vegan Cinnamon Apple Crumble Loaf by Marianna of @mariannas_pantry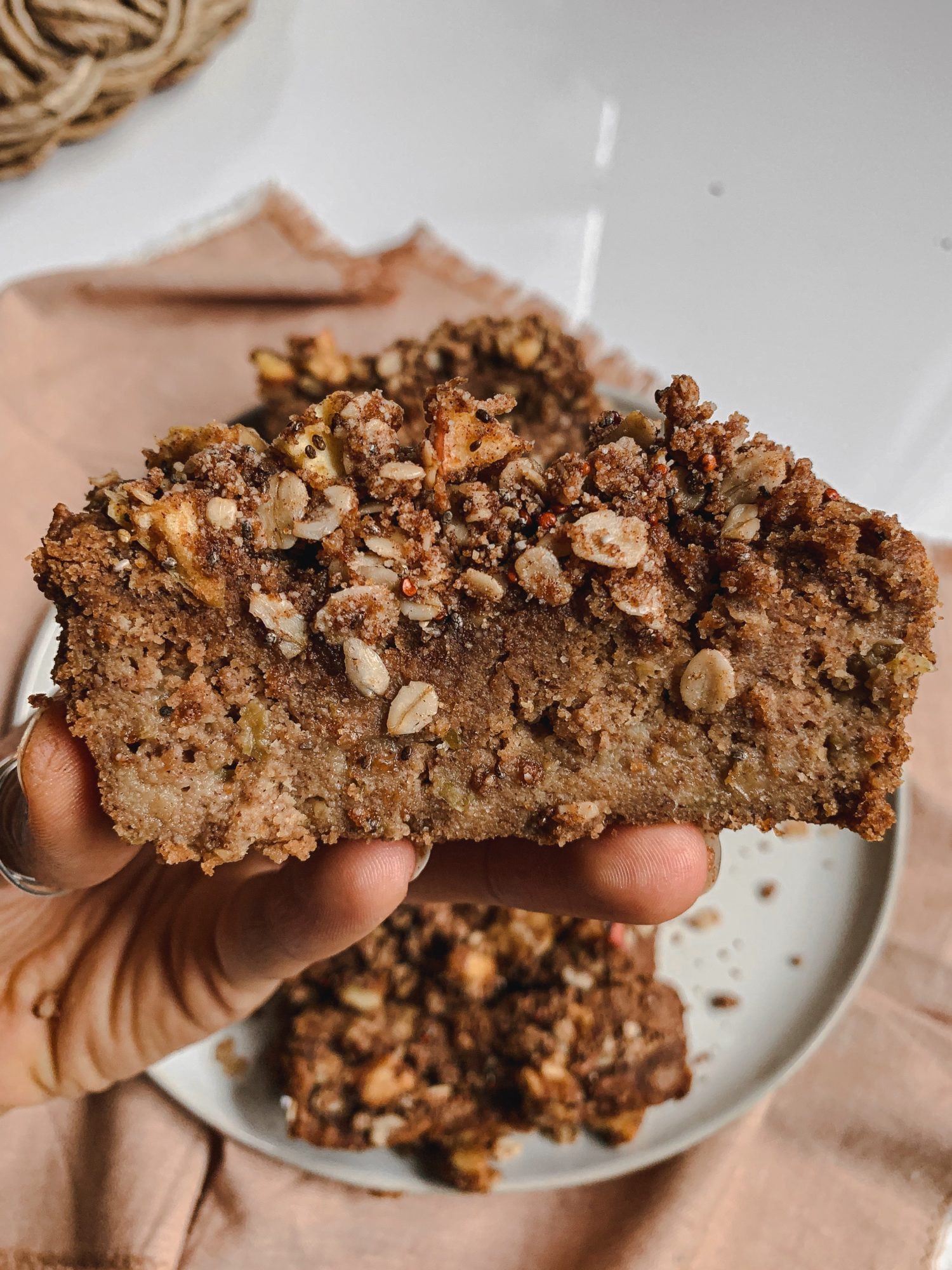 Vegan Cinnamon Apple Crumble Loaf by Marianna of @mariannas_pantry
Description
The comfort that comes from baked apples and pumpkin spice is unbeatable. This vegan loaf made by @mariannas_pantry gives you all the warm comforts of your favorite fall treats with added superfood chia crunch oats.
Ingredients
(Dry) 1 1/2 cup oat flour
(Dry) 1 tbsp pumpkin pie spice
(Dry) 2 tsp cinnamon
(Dry) 1 tsp baking soda
(Dry) 1 tsp baking powder
(Dry) 1/3 tsp salt
(Dry) 1 apple grated
(Wet) 1/3 cup almond milk
(Wet) 1 flax egg (2 tbsp ground flax + 5 tbsp water mixed together separately to let thicken)
(Wet) 1 tbsp apple cider vinegar
(Wet) 1/2 cup apple sauce
(Wet) 1/3 cup + 1 tbsp maple syrup
(Wet) 1 tsp vanilla
(Crumble) 1 packet Right Foods chia crunch hot cereal
(Crumble) 1/4 cup apple chopped
(Crumble) 1/4 cup almond flour
(Crumble) 2 tbsp coconut sugar
(Crumble) 2 tbsp coconut oil (optional)
Instructions
Preheat oven to 350 F. In a small bowl combine almond milk and vinegar and set aside.

In a large bowl combine all dry ingredients excluding apple and mix. In a separate large bowl mix together all wet ingredients , adding in almond milk mixture and flax egg last.

Slowly fold in dry ingredients with the wet. Lastly fold in grated apple. Transfer to a greased loaf pan and cook for 60-65 min or until a fork comes out clean.

While baking add all crumble ingredients to a bowl and mix then pop in the fridge.

When you have 15 minutes of cook time left, remove bread and top with crumble, then cook for the remaining time.

Once done, remove from oven and let cool completely before slicing. Enjoy!
Review Vegan Cinnamon Apple Crumble Loaf by Marianna of @mariannas_pantry
Your email address will not be published. We will use your instagram URL to get your profile pic. All fields except instagram username are required.