Free Shipping on Continental U.S. Orders over $45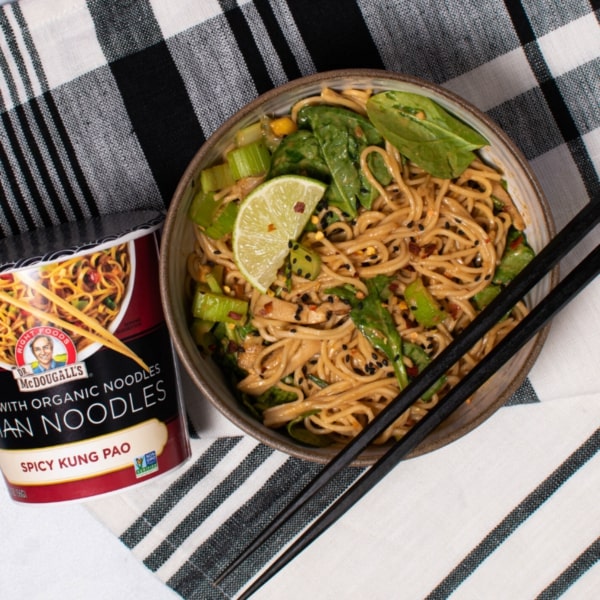 Vegan Dan Dan Noodles
Description
Tangy and delicious! We turned our Spicy Kung Pao noodles into the ultimate summer feast with a twist. We incorporate a savory sauce with some fresh spinach, celery, mushroom and lime.
Ingredients
(Sauce) 1 tbsp minced garlic
(Sauce) 1 tbsp red rice vinegar
(Sauce) 1/3 cup soy sauce
(Sauce) 1 tbsp peanut butter
(Sauce) 1 tsp coconut sugar
(Sauce) 1 tsp salt
(Noodles) 1 unit Dr. McDougall's Spicy Kung Pao
(Noodles) 1/3 cup celery, chopped
(Noodles) 1/2 cup sliced mushrooms
(Noodles) 1 cup baby spinach
(Noodles) lime
(Noodles) red chili flakes
This Recipe Includes Right Foods Asian Noodles Spicy Kung Pao Soup Cup
Instructions
Prepare Spicy Kung Pao noodles according to package instructions. Drain broth from noodles and set aside.

Add all sauce ingredients in small bowl and mix well until sauce is runny and set aside.

In medium saucepan, sautéed celery and mushrooms until soft and browned. In separate mixing bowl, add noodles, veggies, sauce and baby spinach and mix well.

Transfer to bowl and garnish with lime and red chili flakes. Enjoy!
Review Vegan Dan Dan Noodles
Your email address will not be published. We will use your instagram URL to get your profile pic. All fields except instagram username are required.