Free Shipping on Continental U.S. Orders over $45
Vegan French Lentil Chili Cheese Fries by Francesca of @plantifullybased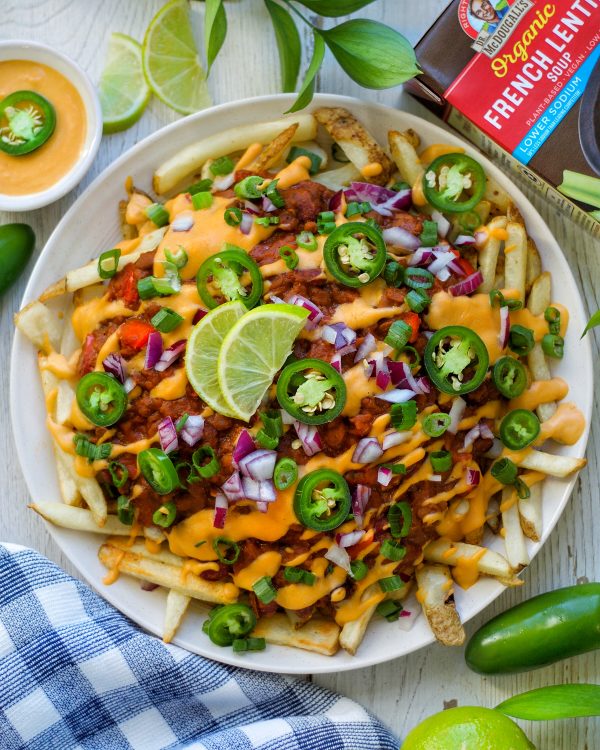 Vegan French Lentil Chili Cheese Fries by Francesca of @plantifullybased
Description
No more missing out on chili cheese fries! Francesca made this recipe using our organic lower sodium french lentil soup. Serve this on game-day and you're vegan guests will be running back every week.
Ingredients
Lentil Chili:

1 box of Right Foods French Lentil soup

1/4 onion

1/2 cup kidney beans

1/3 cup tomato sauce

1/2 tsp taco seasoning

1/2 tsp chill powder

Pinch of red pepper flakes

1/4 tsp cumin

Salt to taste

"Cheese" Sauce:

1 cup potatoes, chopped

1 carrot, chopped

1/4 cup cashews

1 tbsp nutritional yeast

1/4 salt or to taste

1/2 cup non-dairy milk
This Recipe Includes Right Foods Organic French Lentil Gluten Free Lower Sodium Soup
Instructions
Prepare your fries whether you are making them homemade or store-bought.

Prepare chili by adding chopped peppers and onions to a pot. Cook in 1-2 tbsp of water on low heat until the onions are translucent.

Then add the lentil soup, kidney beans, tomato sauce and seasonings. Cook for 20 minutes on low heat to simmer.

Prepare cheese sauce by boiling the potatoes, cashews and carrots for 15 minutes.

Then drain and add them into a blender with the nutritional yeast, salt and non-dairy milk. Blend until smooth.

Once the fries are done cooking place them on a plate. Top with the chili and cheese sauce.

Garnish with green onion, red onion and jalapeño.
Review Vegan French Lentil Chili Cheese Fries by Francesca of @plantifullybased
Your emaill address will not be published. We will use your instagram URL to get your profile pic. All fields except instagram username are required.