Free Shipping on Continental U.S. Orders over $45
Vegan Lentil Soup Meatballs by Jasmine Briones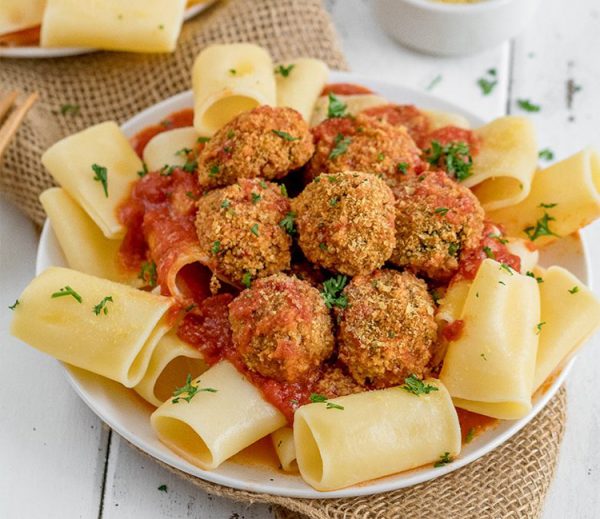 Vegan Lentil Soup Meatballs by Jasmine Briones
Description
Ingredients
1 box Right Foods French Lentil Soup

1 tbsp flaxseed meal

3 tbsp soup liquid reserved from Right Foods French Lentil Soup

3 cloves garlic

1/2 onion

1 stalk celery

6 tbsp quick oats

1 tbsp Italian seasoning

1/4 cup fresh Italian parsley

4 tbsp nutritional yeast

salt to taste

pepper to taste

3/4 cup plain bread crumbs
This Recipe Includes Right Foods Organic French Lentil Gluten Free Lower Sodium Soup
Instructions
Strain the lentil soup through a fine mesh sieve and reserve the liquid. In a small bowl, mix together the flaxseed meal and 3 tablespoons of the reserved soup liquid and set aside for 15 minutes.

Place the garlic, onion and celery into a food processor and pulse until finely chopped.

Heat a small skillet over medium heat, preheat oven to 375 F and line a baking sheet with parchment paper or a silicone baking mat.

Once the skillet is hot, add in the vegetables from the food processor along with about 3 tablespoons of the reserved soup liquid. Sauté for 4-5 minutes, fragrant and beginning brown, adding more liquid as necessary to prevent burning.

Remove from heat and add it back into the food processor along with the strained lentil soup, oats, italian seasoning, parsley, nutritional yeast, and a pinch of both salt and pepper. Pulse until combined, but not purèed. It should be slightly chunky.

Adjust seasonings to taste. If the mixture is still too wet, add in more quick oats, 1 tablespoon at a time, until a dough like consistency is reached.

Pour the breadcrumbs into a small bowl.

Using a tablespoon or cookie dough scoop, scoop out rounded tablespoons of the dough into the breadcrumbs, and gently toss to coat. Carefully remove the meatballs, form them into balls using your hands and place them onto the lined baking sheet. Repeat until all of the dough is formed into meatballs - we ended up with about 22.

Bake for 25-30 minutes, or until browned on the bottom and firm. Cool completely.

To serve: gently toss in marinara sauce, and serve with pasta of choice.
Review Vegan Lentil Soup Meatballs by Jasmine Briones
Your emaill address will not be published. We will use your instagram URL to get your profile pic. All fields except instagram username are required.