Free Shipping on Continental U.S. Orders over $45
Vegan Pad Thai Sushi by Chris Petrellese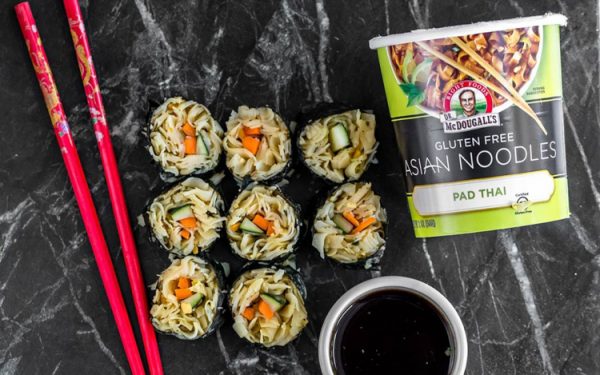 Vegan Pad Thai Sushi by Chris Petrellese
Description
Ingredients
1 2 oz cup of Right Foods Pad Thai Asian Noodle Cup
1 sheet nori seaweed
1/4 small carrot cut into sticks
1/4 cucumber cut into sticks
1 tbsp soy sauce or tamari
This Recipe Includes Right Foods Asian Noodles Pad Thai (Gluten Free)
Instructions
Add 8 oz of hot water to the pad Thai cup, cover and let sit for 5 minutes.

Strain noodles from broth and keep both in separate bowls. Set noodles in fridge to cool for 15 minutes.

Take nori sheet and add pad Thai noodles, carrots, and cucumbers to the front end of the sheet.

Roll nori over the inside ingredients tightly and seal with water once fully rolled.

With a sharp and wet knife, cut roll into 6-8 pieces depending how thick you want your sushi rolls.

For the dipping use 1 tbs of the pad Thai broth and 1 tbs of soy sauce and mix.

Enjoy! Feel free to sub any other veggies for carrots and cucumbers. Avocado would definitely make a great addition!
Review Vegan Pad Thai Sushi by Chris Petrellese
Your email address will not be published. We will use your instagram URL to get your profile pic. All fields except instagram username are required.