Free Shipping on Continental U.S. Orders over $45
Vegan Spanish Rice Chili Tacos by Jasmine Briones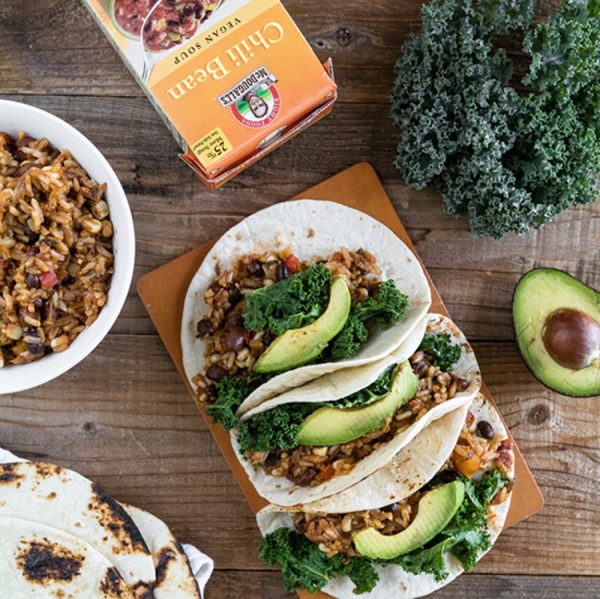 Vegan Spanish Rice Chili Tacos by Jasmine Briones
Description
Ingredients
1 box Right Foods Chili Bean Soup
1 clove garlic, minced
1/3 cup onion, diced
1/4 cup bell pepper (any color) diced
1/4 cup water
3/4 cup uncooked brown rice
1/4 cup cilantro
1/2 cup corn kernels
1/4 cup chopped tomatoes
1/4 teaspoon cumin
1/4 teaspoon chili powder
1/8 teaspoon paprika
8 small tortillas
2 cups destemmed and chopped kale
1 avocado cut into slices
1/4 cup cilantro chopped (for garnish)
Instructions
To cook the Spanish rice, grab a medium pot, add the garlic, onions, and bell pepper onto a non stick pan with 1/4 cup water, and sauté on medium until translucent and fragrant.

Add in the remaining ingredients and stir until uniform.

Bring to a boil over medium, then cover and simmer over low for 30 minutes. Remove from heat and allow it to sit covered for another 15 minutes.

Remove the cover, fluff with a fork, then dig in!

To cook the tacos, steam your chopped kale in a steamer basket until softened and bight green, about 3-4 minutes.

Using tongs, place the tortillas over an open flame on the stove (on medium) for about 45 seconds, or until softened and slightly browned (starting to char). Flip them and char the other side (the second side will take less time than the first). Continue until you have done this to all of the tortillas.

Divide the chili, kale, avocado and cilantro amongst the tortillas, and serve warm.
Review Vegan Spanish Rice Chili Tacos by Jasmine Briones
Your email address will not be published. We will use your instagram URL to get your profile pic. All fields except instagram username are required.