10 Lower Sodium Vegetable Soup Recipes
Vegetable soups are an amazing way to nourish your body, but packaged soups can contain huge amounts of sodium. While salt is a necessary mineral that keeps us running, too much is linked to high blood pressure, heart disease, and stroke. How much salt is "too much?"
Why is it important to watch your sodium intake? According to the FDA, most people exceed the recommended 2,300 milligrams of sodium per day because many foods in our diets are loaded with salt. Too much sodium can be detrimental to your health. Excess sodium causes increased blood volume, which can overwork the cardiovascular system, according to Harvard.
Most of the sodium in our diets comes from processed and prepared foods like bread, lunch meat, soups, chips, etc. With our current food culture in the US, it can be hard to avoid these convenient foods, and packaged foods often rely on large amounts of sodium for flavor.
Salt isn't the only way to impart flavor into foods like soups; herbs, spices, and a blend of vegetables or other ingredients can create a huge amount of flavor, meaning you don't need as much salt.
Here at Right Foods, we're experts in soup. We make a wide variety of organic, gluten-free, and lower-sodium options to fuel your needs. From our famous vegan ramen cups made with organic ramen noodles to our organic lower-sodium ready-to-serve vegan soups, we make something for everyone.
Kate Arvidson of Coconut Kate created this hearty veggie and lentil soup recipe. Eight different vegetables plus quinoa, lentils, and garlic bring a powerful anti-inflammatory punch. 
This vegetable soup is made using lower-sodium Right Foods Organic French Lentil Soup. 
This recipe uses our lower-sodium Garden Vegetable Soup and adds quinoa, mushrooms, and a garnish of cilantro.
This is an easy, fresh lower-sodium vegetable soup recipe for when you're craving nourishing veggies.
Split pea soup is comfort food at its finest. Creamy, savory, and just the right amount of spice, this lower-sodium veggie soup will warm you from the inside out.
Our lower-sodium Split Pea Soup uses potato, onions, carrots, celery, and of course peas to provide you with plenty of veggies.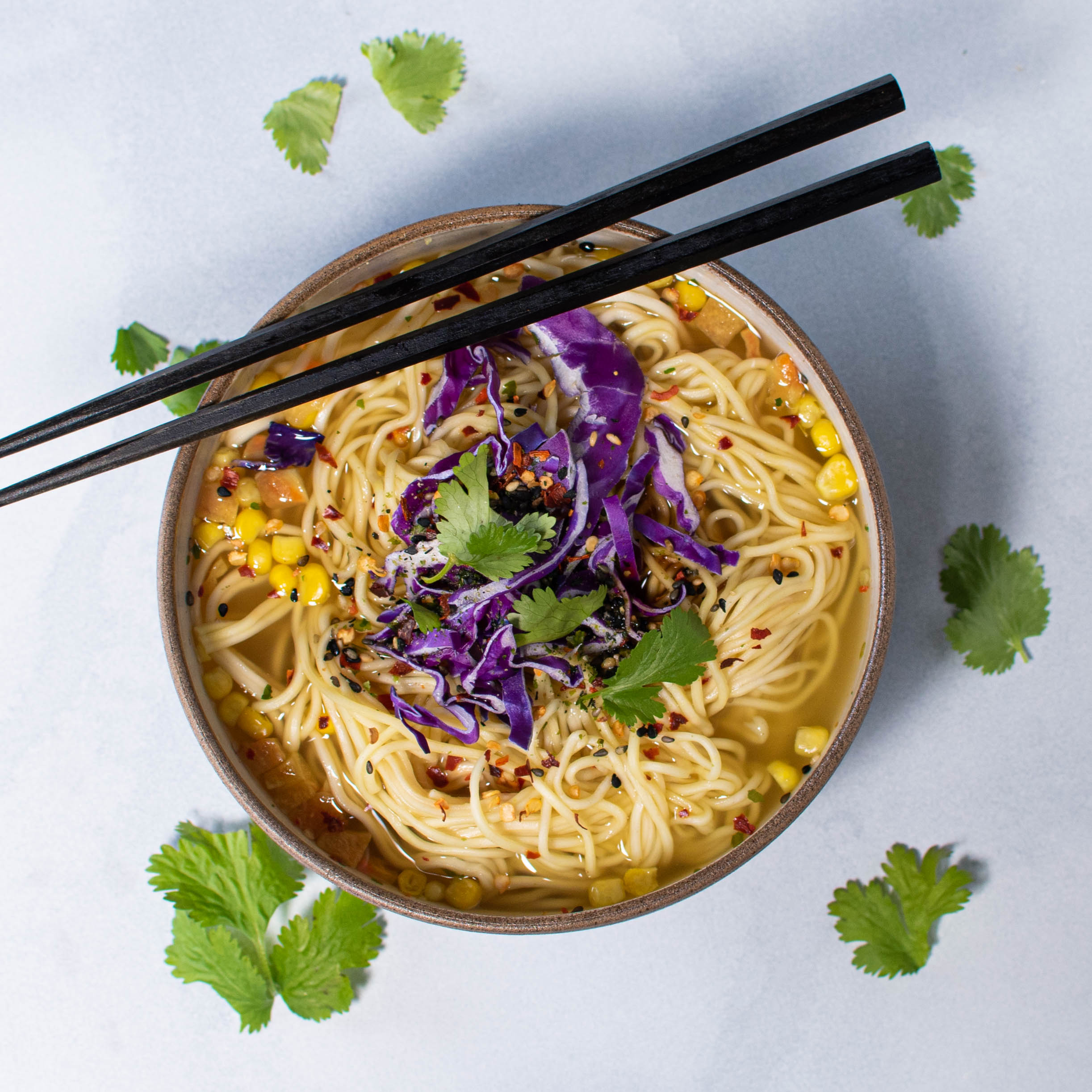 The best kind of vegetable soup is noodle soup, and this easy vegan chicken ramen has it all: noodles, a savory broth, and some veggies for freshness.
To make this recipe with reduced sodium, use our Lower Sodium Vegan Chicken Noodle Soup instead of the ramen noodle cup. Less sodium, but still all the flavor you need.
Our lower-sodium French Lentil Soup is amazing on its own, but even better in chili form. To make this hearty lower-sodium vegetable soup, you'll add tons of vegetables plus tomato paste into the lentils and stew together.
Thick black bean and veggie soup, Cuban style! Spices like cumin and paprika, plus lime juice and creamy yogurt bring this basic black bean soup to life.
The base is made with Lower Sodium Black Bean Soup, plus bell pepper and baby tomatoes to get your veggies in.
Autumn calls for root veggies, making this loaded root veggie lentil soup the ideal Fall vegetable soup, lower-sodium style of course.
Simple as can be, just add potatoes and carrots to a carton of French Lentil Lower Sodium Soup. Garnish with fresh parsley and comfort is a spoonful away.
This recipe is a creamy, flavorful tahini chickpea stew made with Lower Sodium Garden Vegetable Soup. It's a vegetable soup filled with protein-packed chickpeas, herbs, spices, creamy tahini and cheesy nutritional yeast.
Add a squeeze of lemon juice on top and enjoy this tasty lower-sodium vegetable soup.
Have some extra pumpkin puree from all your Fall recipes? Add it to Right Foods Organic Black Bean Lower Sodium Soup for a sweet and spicy black bean chili.
Add in whatever veggies you'd like to make this a lower-sodium vegetable soup.
This 6-ingredient noodle soup has a rainbow of fresh veggies and can be made in only 3 steps. The crunch of the vegetables makes this lower-sodium vegetable noodle soup a healthy meal.
Like the other ramen recipe, to make this one with reduced sodium, use our Lower Sodium Vegan Chicken Noodle Soup instead of the ramen noodle cup.
Lower-sodium soups
Find a list of Right Foods low sodium vegan soup offerings below, which we use in this list of 10 lower sodium vegetable soup recipes:
A veggie-packed soup filled with tomatoes, carrots, potatoes, onions, celery, peas, cabbage, green beans, parsley, basil, and spices.
With only 370mg of sodium per cup, this chicken noodle soup is the best way to enjoy your childhood favorite comfort food without all the salt.
With 9g of fiber and just 360mg of sodium, this is a wholesome, creamy split pea soup flavored perfectly with herbs, spices, and just enough sea salt.

Enjoy this savory, delicious organic lower sodium French lentil soup containing vegetables and herbs for cozy flavors.
This hearty black bean soup has brown rice, vegetables, cilantro, herbs, and spices.
Split peas, 4 different vegetables, garlic, spices, and herbs combine in this chunky split pea soup.
This chunky lentil soup is high in protein, fiber, and full of a variety of vegetables and spices.
Final Thoughts
Although ready-made soups you find in the store can have high levels of sodium, not all soups are made equal. Here at Right Foods, we have a whole line of lower-sodium soups to fit your needs. From noodle soups to lentil soups to vegetable soups, we have a variety of different flavors to help you customize your meals.
McDougall's Right Foods products are completely vegan, non-GMO, and made with whole foods. We care about your health and the health of the planet, so our paper cups are made with packaging from certified sustainably-managed forests.
We hope you found a recipe you love in this list of 10 lower-sodium vegetable soups. If you gave one a try, snap a picture and tag us on Instagram so we can see your masterpiece for ourselves!