Free Shipping on Continental U.S. Orders over $45
Garden Vegetable Quinoa Soup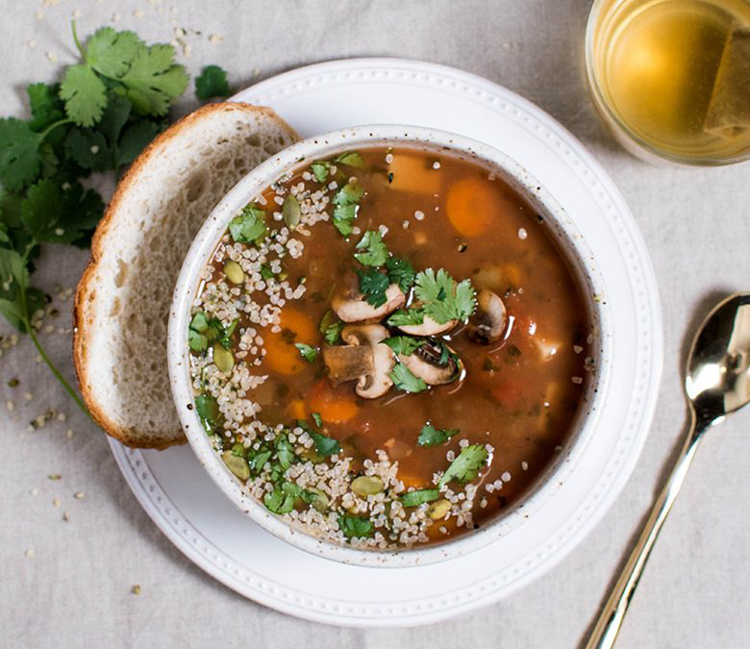 Garden Vegetable Quinoa Soup
Description
Here to warm up a cool day for you with our garden vegetable soup! Eat it alone or with these delicious toppings for extra flavor.
Ingredients
Dr. McDougall's Lower Sodium Garden Vegetable RTS Soup
1/3 cup quinoa
1 handful mushrooms
1 handful cilantro
This Recipe Includes Right Foods Garden Vegetable Lower Sodium Soup
Instructions
Bring 2/3 cup of water to boil. Add in quinoa and let it cook. Stir until light and fluffy.

Add 1 tsp oil to a frying pan. Sauté mushrooms until browned and set aside.

Heat Dr. McDougall's Lower Sodium Garden Vegetable soup according to package instructions.

Once soup is ready, transfer to a bowl, top off with quinoa, sautéd mushrooms, and fresh cilantro.

Enjoy!
Review Garden Vegetable Quinoa Soup
Your email address will not be published. We will use your instagram URL to get your profile pic. All fields except instagram username are required.