Free Shipping on Continental U.S. Orders over $45
Game Day Split Pea Potato Bites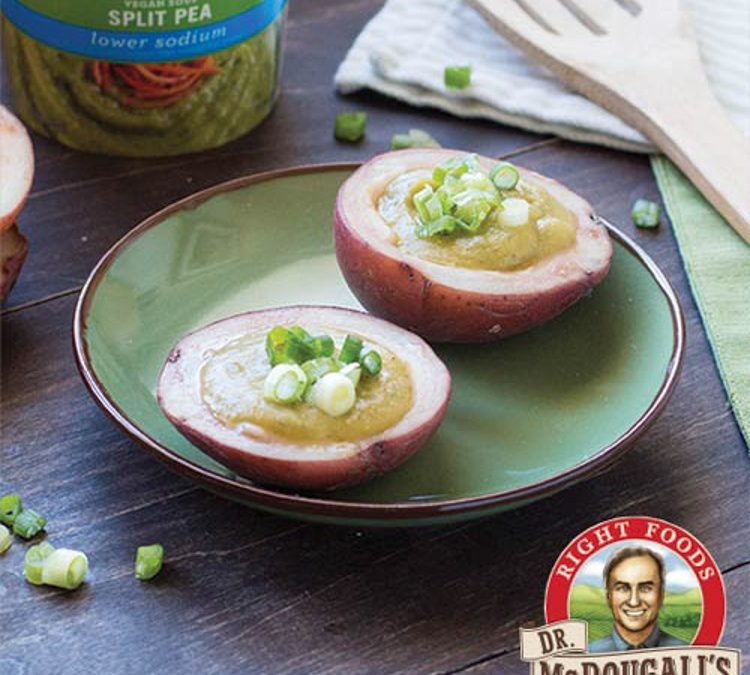 Game Day Split Pea Potato Bites
Description
Ingredients
2 fingerling potatoes
1 stalk fresh green onion
Dr. McDougall's Lower Sodium Split Pea Soup Cup
This Recipe Includes Right Foods Split Pea Gluten Free Soup Big Cup
Instructions
Bring a medium pot of water to boil and drop the two potatoes in. Simmer for about 20 minutes, or until you can stick a fork in the side of the potatoes.

Remove the potatoes from the heat, drain, and let cool. Cut the potatoes in half and spoon out the insides of the potatoes for your split pea soup cup filling.

Cook the Lower Sodium Split Pea Soup Cup according to package directions and pour spoonfuls into the potatoes. Top with the chopped green onion and serve.
Review Game Day Split Pea Potato Bites
Your email address will not be published. We will use your instagram URL to get your profile pic. All fields except instagram username are required.